Taking one last look from the upper deck at Hank Aaron Stadium in Mobile, I knew I was saying goodbye to an era of baseball in Alabama. We were never going to be able to make it back there for a game on the next beach vacation. It seemed like, perhaps, Mobile residents had already come to that conclusion over the last few years. It was hard not to notice a lack of turnout for the games we attended. Rows of empty seats made for easy work in regards to retrieving foul balls, but it wasn't without its consequences on the team. That final time at The Hank, I had my camera ready and took pictures of the empty 755 Club, closed shops on the concourse, and an empty lawn out in the outfield.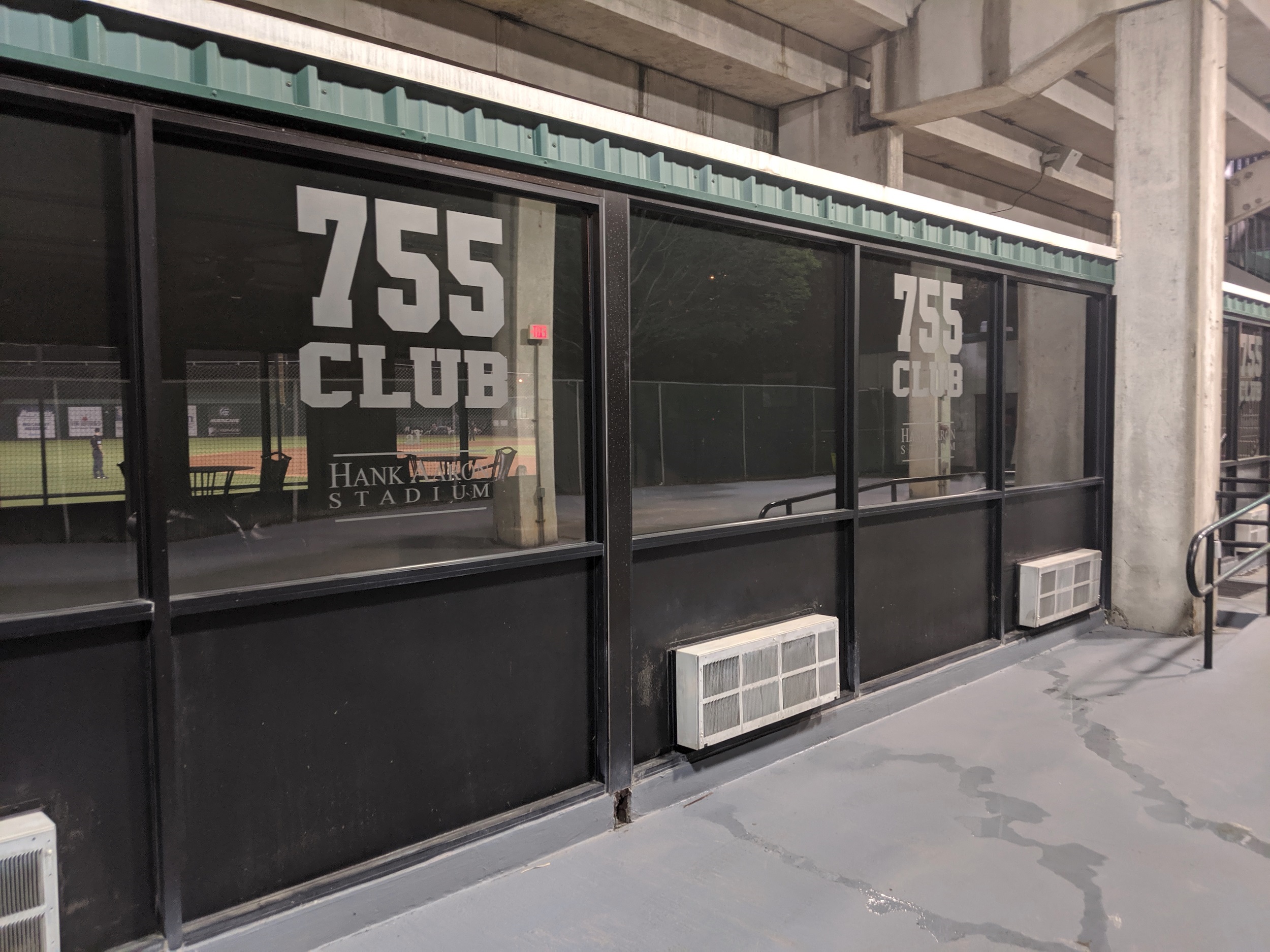 The 755 Club closed up at Hank Aaron Stadium in Mobile, AL
---
These kinds of things happen. Sometimes the demand for baseball begins to fade away in a community, and before long, a stadium closes and a franchise is forced to relocate.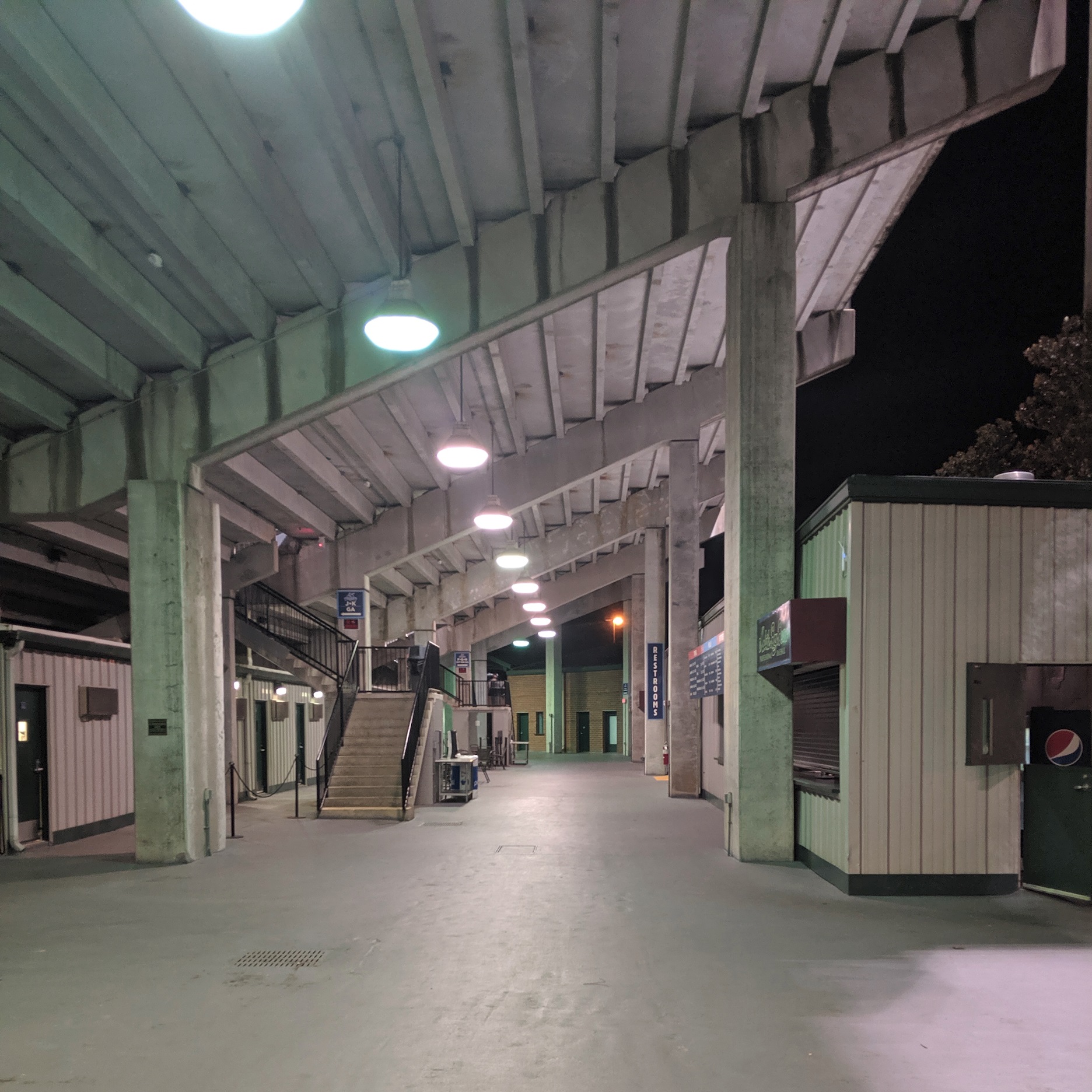 Abandoned concourse in the middle of the game at Hank Aaron Stadium in Mobile, AL
---
But what happens when a community doesn't get to say goodbye, or they would never have stopped coming to the games if it were not for a pandemic?
After the Coronavirus outbreak in 2020, and minor league baseball reaching the conclusion to forgo a season altogether, there was a fear that it would be economically crippling for organizations. On top of that, Major League Baseball would finalize its restructuring of its minor league system as well. The timing couldn't be any worse for MiLB and 40+ teams were given notice that they were on the figurative "chopping block".
By early December, some teams' fates were officially sealed. And this time it was a decision made by MLB, not necessarily a lack of fan turnout or fading interest.
One team that was affected by these final cuts was the Charlotte Stone Crabs. They have been playing in Port Charlotte, Florida since the 2009 season. They had won the Florida State League title in 2015 and their stadium had even been selected the number one spring training destination by USA Today in 2014. It was an organization that appeared to be doing well prior to Covid, but they were simply in a league that would be downsizing. Ultimately, they were left off their parent club's, the Tampa Bay Rays, affiliate list. The Stone Crab's GM, Jeff Cook, received notification from the Rays only days before they would make it publicly official. To hear it from him, he never saw it coming. While he had been with the team for the last six seasons, he was fittingly the final employee of the club. Now the community will seemingly be without baseball in the area. In fact, the only way they would be able to say goodbye to the team was to attend the closeout yard sale at the ballpark in January of 2021.
Another American city on the brink of losing its baseball team is Lancaster in California. The JetHawks are the final team in Antelope Valley, just outside of Los Angeles. With a current population over 150,000, this had been a relatively perfect area for a ballpark. With no other team within 60 miles, hundreds of thousands of fans could choose the affordability of minor league baseball over the more expensive, traffic-laden route to the next closest option: the Los Angeles Dodgers. The team did not have a hard time drawing fans to The Hangar Ballpark. However, there were multiple reasons why this franchise fell out of favor with Major League Baseball, ultimately leaving it without an affiliated partner for the first time in 24 years. The geography alone makes it difficult for a big league club to choose, as the other Western teams had relationships with minor league clubs in the area. And while one could argue there are still options for professional baseball after losing affiliation with MLB, the truth is much more difficult than that. Local summer collegiate leagues wouldn't be able to draw the same financially for a variety of reasons, and western independent leagues don't offer the same type of stability. A more established independent league is simply too far away to make travel work within the league. The Lancaster JetHawks are damned if they do and damned if they don't. According to LA times reporter Bill Shaikin, it's fair to say the team has "died at the hands of Major League Baseball." The fans were only bystanders, left to watch it unfold from a distance.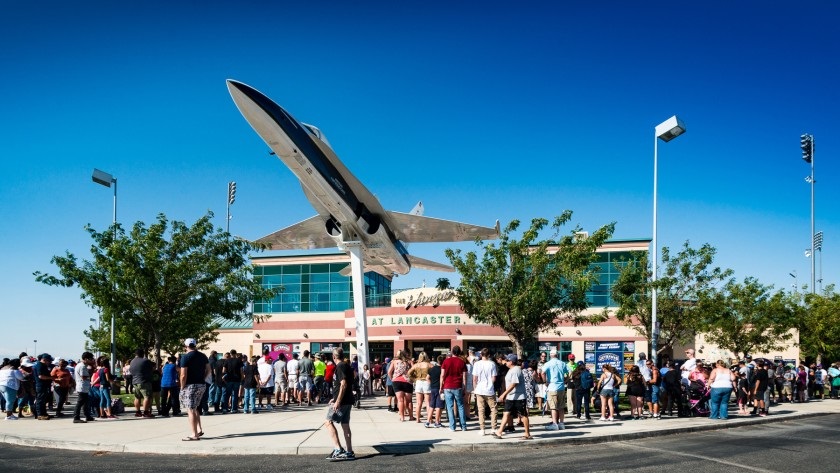 The Hangar Ballpark in Lancaster, CA
---
Across the country in Auburn, NY another team was left with very few options once MLB pulled the plug on their affiliation. The Auburn Doubledays have enjoyed partnering with Major League clubs since the late 1950s. In fact, they have been a short season affiliate every year since 1982. Yet this kind of consistency and reliability means very little in baseball today, as short-season teams are now a relic of the past. They had been a part of the New York-Penn League which completely dissolved after MLB restructured their minor league system. And because the Doubledays passed on the newly formed MLB Draft League, they find themselves with little recourse in early February. With a maximum capacity of only 2,800 fans at Falcon Park, they do not have the ability to sell enough tickets to justify having a full season independent league club. That leaves them with few choices short of another collegiate summer league, but it still has yet to be decided. For a team that has won eight league titles in its history (most recently in 2007) this is an abrupt end to an otherwise successful run in affiliated baseball. And for a team that has always been a draw to Major League franchises over the years, and for fans who have gone through the turnstiles to support their team, none of what transpired over the last year really seems fair at all.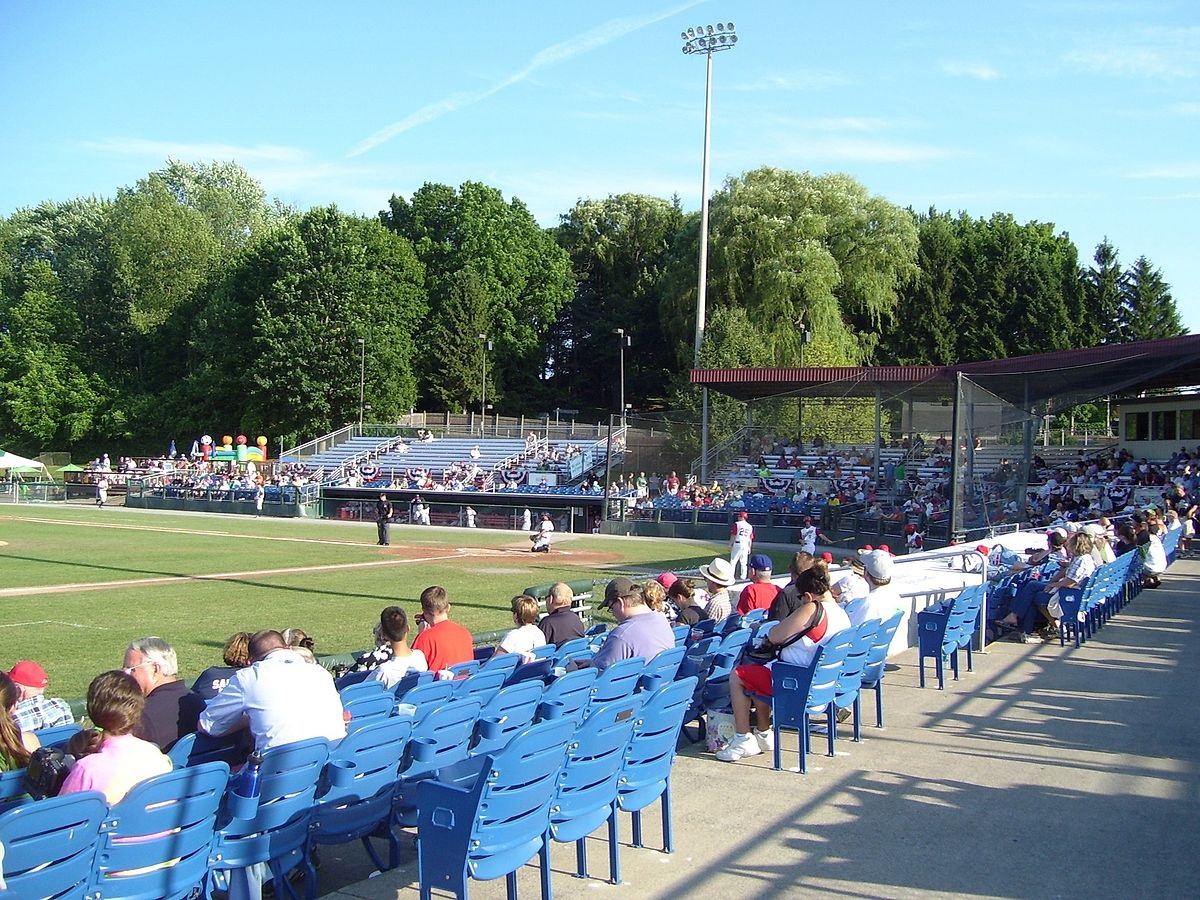 Leo Pinckney Field at Falcon Park in Auburn, NY
---
What's most unfortunate is that this is just to name a few. There are loyal fanbases in cities all over our country who have lost their team and won't even get to say goodbye. Cities like Pawtucket, Staten Island, Orem, Hagerstown, and Lowell are just a handful who know it's not likely a team will be playing in their hometown in 2021. And whether it was MLB's decision, an ownership's decision to move, or because a pandemic dealt a final, crippling blow, some fans are finding out they said goodbye to their team a long time ago. They just didn't know it.