When you drive around the country with the main focus of trying to take in baseball, one unintended consequence is that the entire trip takes on its own memory. It's more than just a ballpark, what the score was, or a cool new hat you bought. Being that there is baseball literally everywhere, that just means being able to enjoy countless unique cities, local traditions, favorite restaurants, and significant landmarks. These are the major bonuses of baseball road trips in America.
Sharing these experiences with one another is one of the best parts of being a baseball fan. No matter where we go, it seems we know someone who's been there and can recommend special places or food to try out before and after the game.
The first baseball road trip of 2022 took us to the northern Alabama area to see both the Rocket City Trash Pandas outside of Huntsville, as well as the Savannah Bananas on their World Tour at Historic Rickwood Field in Birmingham. If you ever find yourself on a trip to the Yellow Hammer State, it might help to know a little of this before you get there. We left the Chicago area and headed south through Indiana, Kentucky, and Tennessee before reaching baseball. Here's some of the highlights:
We were fortunate enough to find a couple of great restaurants on this trip. One was actually breakfast after our very first stop of the trip in Indianapolis. We went to Art's Skillet which is a popular breakfast spot in the city. There were some great Latino touches to the meals we chose, including an incredible biscuits and chorizo sausage gravy, and volcano sauce to accompany a tasty omelet. I don't know what to say. Sometimes Google reviews can really help you spot a diamond when traveling on the road. Can't wait to go back here again someday. Probably the best food we had in Alabama came when we stopped for lunch in Birmingham at Tortuga's, which is just a stone's throw from the Baron's ballpark downtown. Some pretty solid reviews online referenced the best Chicago-style pizza around (which we know well and would need to see for ourselves…) I can honestly say we weren't disappointed. And when you pair that with a pretty solid local beer list, you can't go wrong!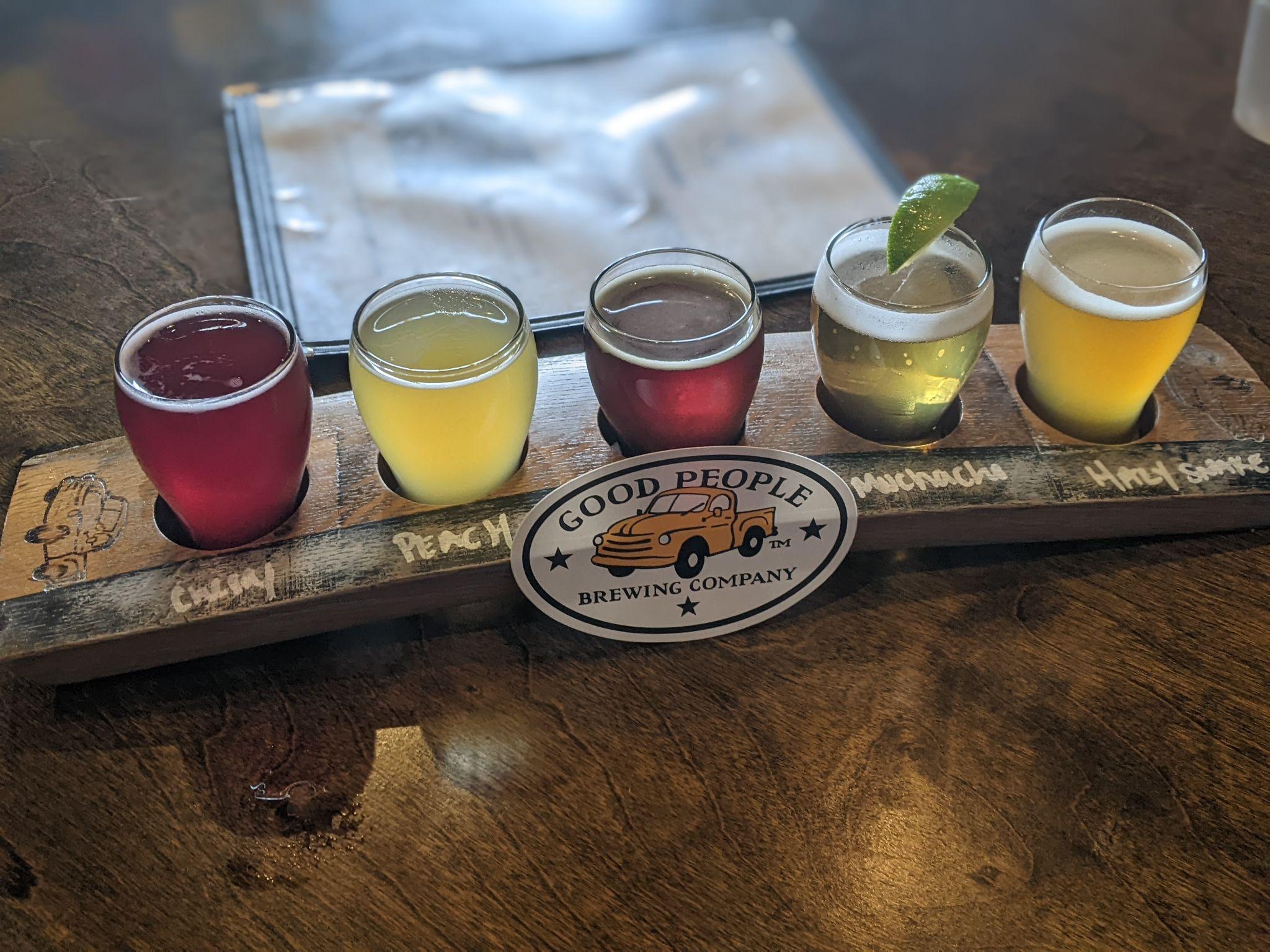 Check out the variety at Good People in Birmingham! We found a couple of great spots for beer in Alabama. Our friend Virgil, who is a season ticket holder for the Trash Pandas in Madison, recommended we stop at Campus 805 to check out the breweries like Yellow Hammer and Straight to Ale pre-game. That entire location is a blast and would recommend it to anybody looking for a spot to eat, drink, or hang out with friends before a ball game. Later on while in Birmingham, straight across the main entrance to Regions Park where the Barons play, was another gem called Good People Brewing. This is a GREAT place to catch beers before or after a game. They have a wide variety of beers on tap, a unique atmosphere, plenty of beer to-go, and awesome merchandise!
The Trash Pandas home park, Toyota Field in Madison, is both brand new and aesthetically pleasing. However, it lacks some of the personal charms that older ballparks do. So maybe we have to give this one some time to develop a little personality. On the other hand, it's easy to note all the historic elements of Rickwood Field, like the old-fashioned banner ads in the outfield, or the incredible ballpark museum located behind home plate filled with great artifacts of baseball from years gone by.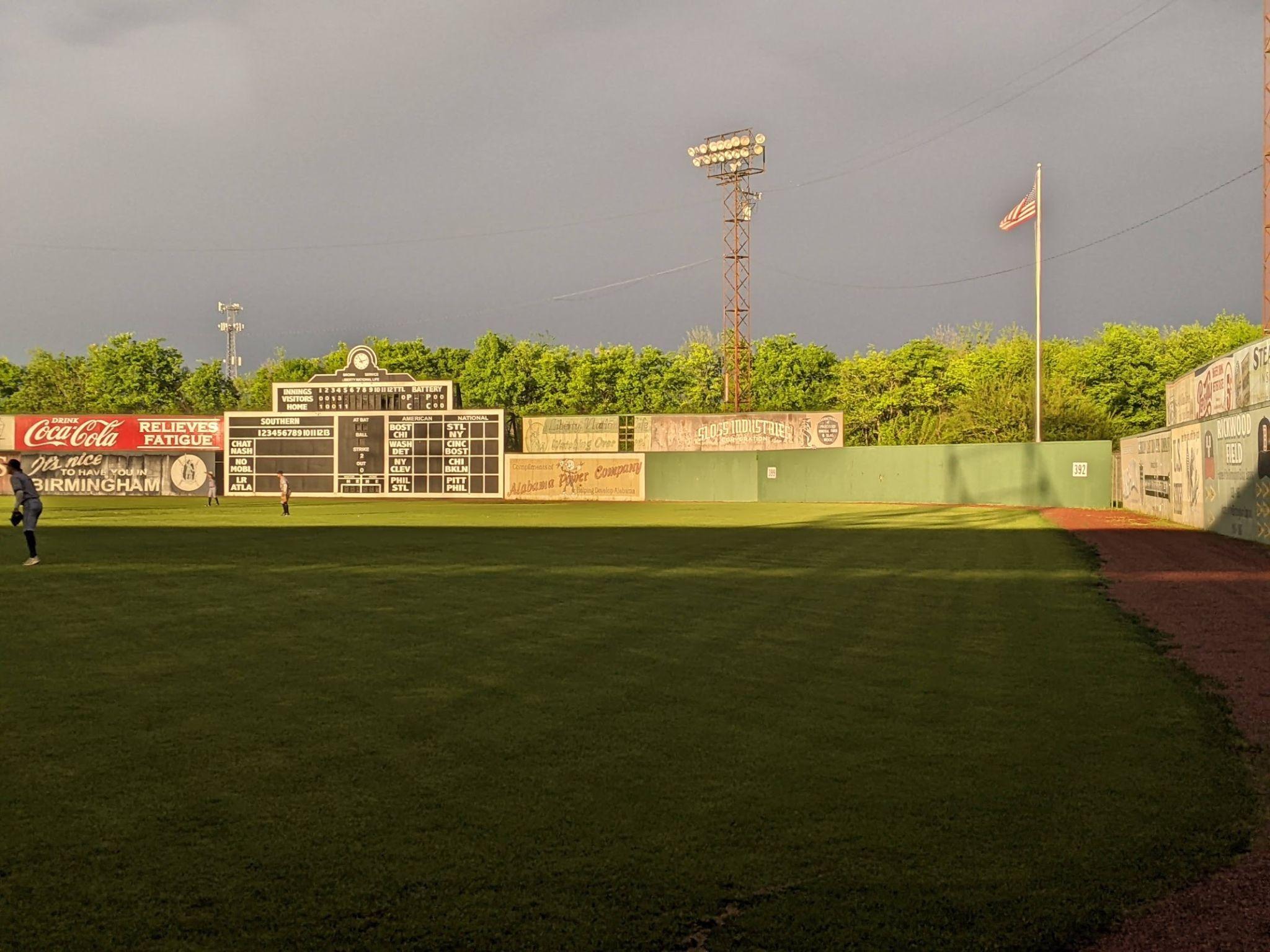 Gotta get the game in before the sun goes down! One of the charms of Rickwood Field is that it holds 100+ years of baseball history and, in fact, contains the actual lights from the famed Polo Grounds in New York. The rich just keep getting richer, am I right? However, it turns out that they are just for show. And when the Savannah Bananas game comes to an end in the early evening, you actually find yourself in a relatively dark stadium with no hope of any lights coming on. It's pretty surreal. When was the last time you were inside a ballpark with no lights on at night?
For a new ballpark, and new team with a lot of local support in northern Alabama, the Rocket City Trash Pandas need to figure out their concession lines. Every place for food and drinks on the concourse (even including the team store) was roughly a 30 minute or more wait from the beginning of the game on until the late innings. Fans should NEVER have to choose whether or not they want to eat and drink or watch the game. Hopefully this problem gets solved soon the next time we catch a game outside of Huntsville.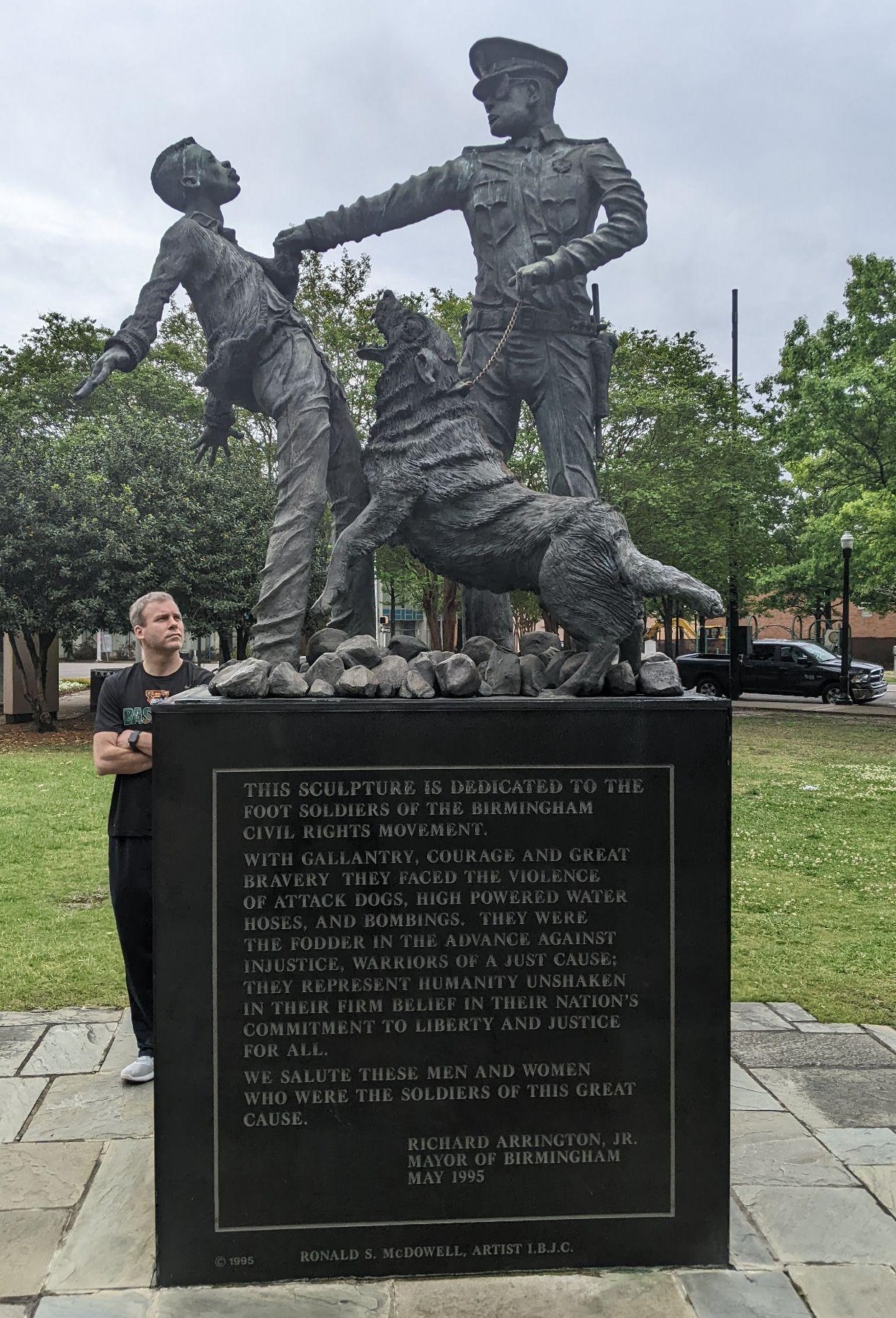 A snapshot in time immortalized in downtown Birmingham, Alabama Unfortunately, with our trip falling on Easter weekend, the Negro League Southern Museum in Birmingham was actually closed. We didn't realize it until we walked up to the door. However, it was a sweet bonus to walk through Kelly Ingram Park and take the Freedom Tour at the National Civil Rights Monument in downtown Birmingham. There were some incredible sculptures in an area filled with American history. It's a place where all people should go to learn about a darker time in our nation's past that was not so long ago.
Some of our favorite moments of any road trip we take is meeting up with friends from previous trips or from the various social media platforms. The baseball community is such a great group to be a part of. We couldn't have been happier to connect with Virgil and his wife in Rocket City, as well as the gang from the Missoula PaddleHeads (Sammy B, Hallie, and Matt) who were also in town for a little road trip before their own baseball season got underway in Montana. While in Birmingham, it was great to have friends within the Savannah Bananas organization that we could see out at Rickwood. We quickly met with Bananas owner Jesse Cole before the game to wish him well and finally connected in person with Matt Graifer (AKA on-field host "The Young Professor") postgame outside the gates. It was a hell of a show, and we were glad to have a few moments to say hello and congratulate him. It's always a blast when we can put faces to the names of people we meet online. And this trip was surely a great opportunity for that!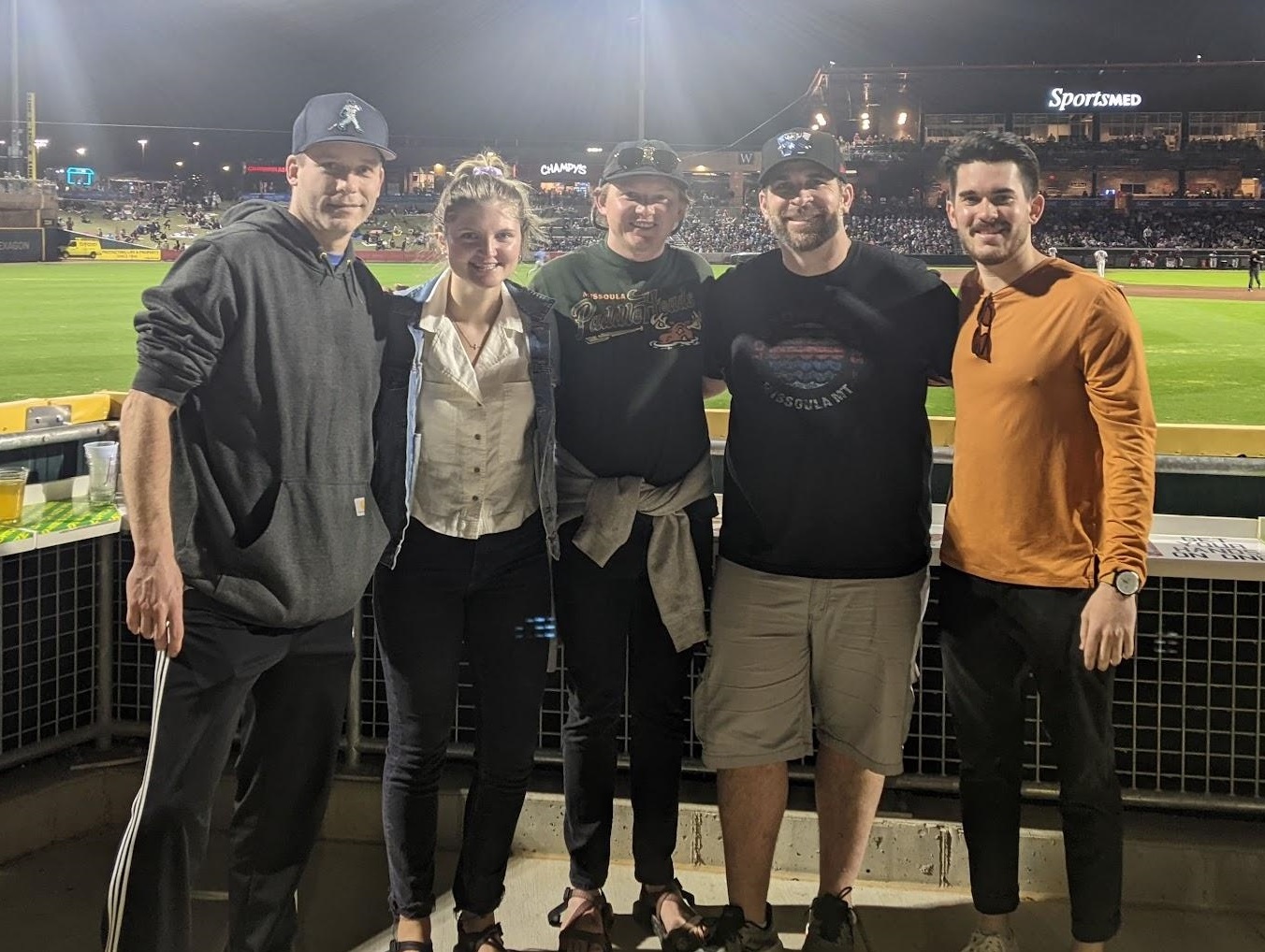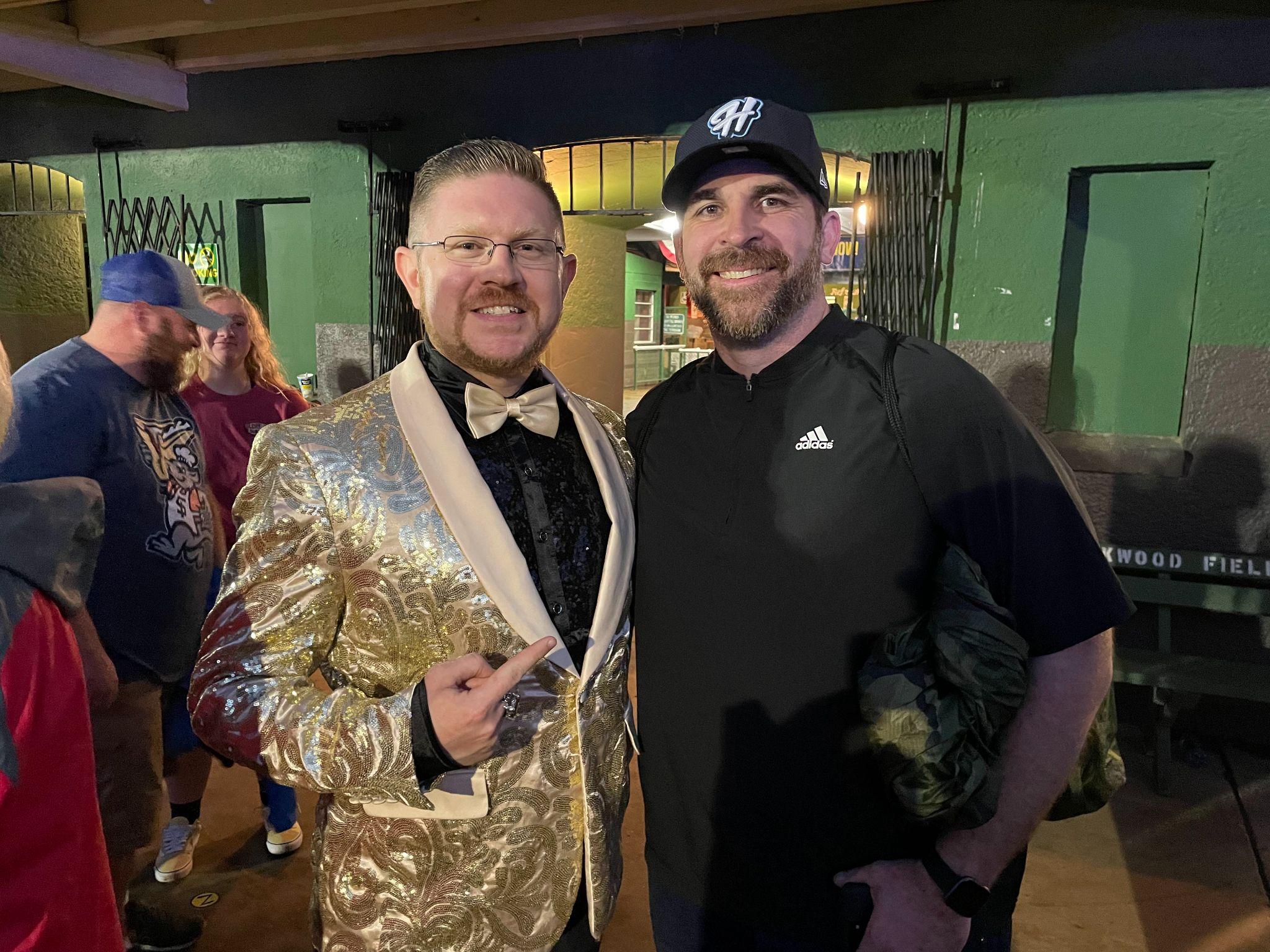 Use the map and plan your own trip this summer! https://www.baseballmapper.com
---
Make sure to follow us on Twitter, Facebook, Instagram, and YouTube for more baseball content like this @baseballmapper, where we always try to bring you closer to baseball.