Man, 2023 has flown by in a flash. As the World Series is just about under way, I can't help but feel that I missed out on so much baseball this season. I had to look back to do a recount, and somehow, we didn't even make it to a dozen ballgames this year! Most of my regular stops, like the White Sox, Beloit Sky Carp, and Kenosha Kingfish, are typically places I frequent throughout the summer. However this year, I was fortunate to squeeze a single game in at each in the midst of a crazy family schedule.
Yet, with all that I've missed out on, if you were to tell me that I would get to cross three fan-favorite MiLB ballparks off my wishlist this summer, I'd say it was still a successful season. Those parks in particular are Smith's Ballpark in Salt Lake City, Parkview Field in Fort Wayne, and Riders Field in Frisco. All 3 parks are a baseball lover's dream and for different reasons. Here's a few thoughts on these 2023 baseball road trip highlights:
---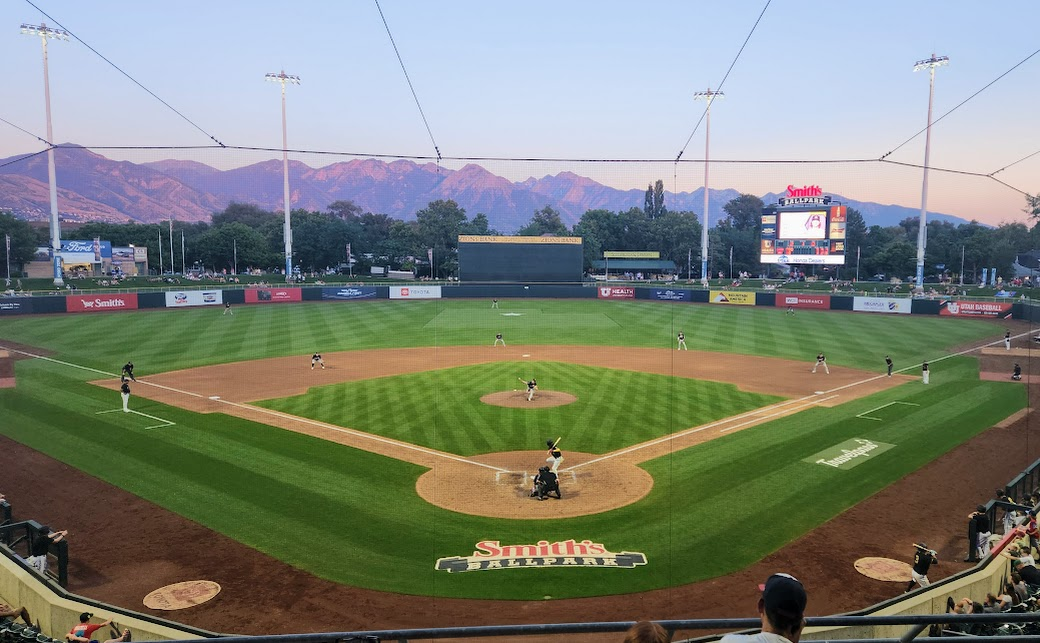 Smith's Ballpark (7/20/23)
It all started with the epic good fortune of a day/night double-header being announced the day before due to a rainout. That just means more time in the ballpark to explore the sights, drink beers, and partake in some local eats. I always feel the game zip by when I'm at a park for the first time. There's so much to experience and 2 games for 1 means I don't have to feel rushed.
Best part: The whole reason I felt compelled to experience a game in Salt Lake City were the views from behind home plate. I've always felt the outfield scenery appeared to be some of the most majestic in baseball based on pictures. And let me tell you, that mountain skyline didn't disappoint. It's hard to even justify getting up from your seat to walk away from that. Concessions be damned. Well, almost all concessions….
Ballpark BONUS: The local Farr's Ice Cream. In-park exclusive "Bumble Bee Ripple" is a banana ice cream with fudge and caramel swirl. It's delicious, and I was sure to get a perfect helmet sundae shot (with the scenic backdrop!), however, showcasing the ice cream was a problem because it was too good to take it slow. Oh well… Local desserts are one of our favorite ballpark concessions and Farr's is one hell of a local treat!
---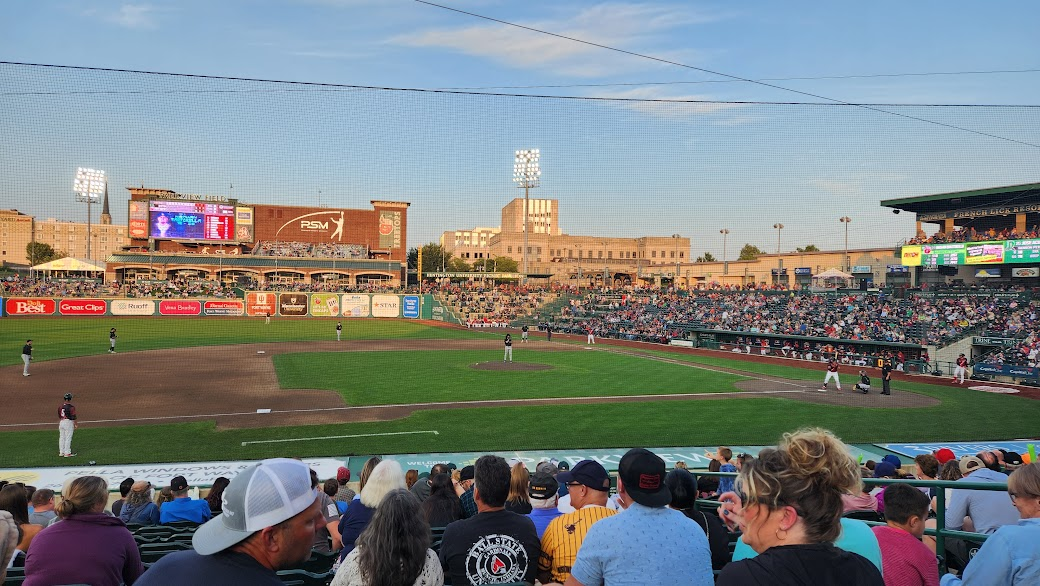 Parkview Field (8/18/23)
It's been a goal of ours the past couple years to make it to Fort Wayne, IN both to meet up with our friend (and incredible designer!) Logan from Old Fort Baseball Co., as well as to see this gem of a High A ballpark. The TinCaps stadium is only 4 hours or so from the house which is reason enough to make a day trip of it. The park is LOADED with great views ALL AROUND the concourse, but especially the Home Run Porch in left field and the variety of spots to hang out in center field.
Best part: I personally love a ballpark that's nestled in the downtown area. Parkview Field is exactly this way, with the shops, restaurants, hotels, and condos of Ewing and Jefferson literally setting the perimeter of the field. It makes it so easy for fans to transition from the game to the bar afterwards (or visa versa!)
City BONUS: We found a couple of great spots for drinks both pre and post-game. To start, we headed to Summit City Brewerks. We had planned to hit up a couple of breweries, but the beer was so good, we had to stay for a second flight of different beers. DEFINITELY worth your time to pre-game a bit before first pitch. Then after the game, we wrapped up at a place called Penny Drip for a few post-game treats. This was a unique spot with both coffee AND cocktails (also coffee cocktails!) I recommend checking out their Irish coffee or Cowboy Coffee!
---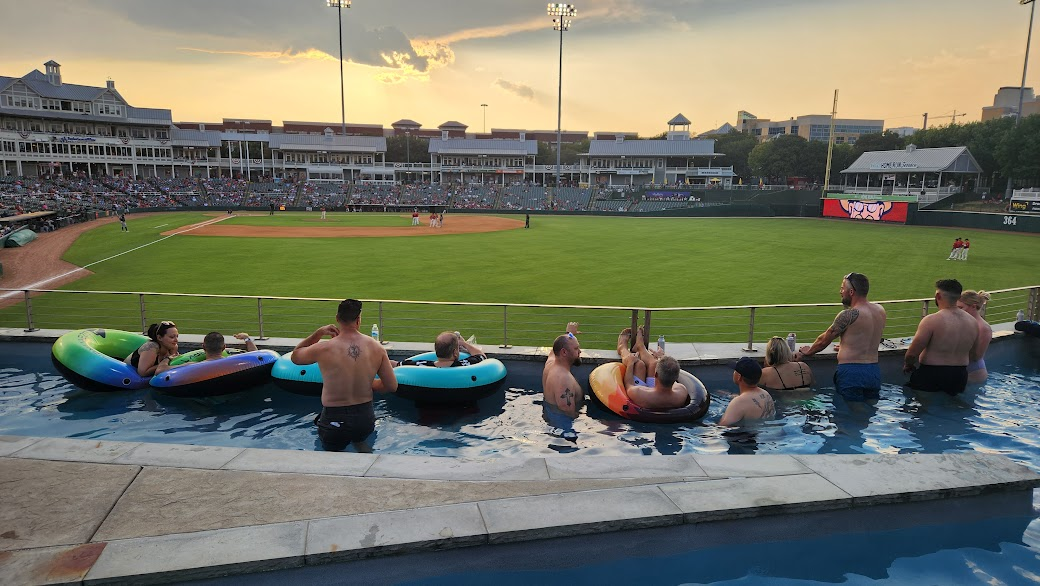 Riders Field (9/3/23)
Over the last 10 years, there hasn't been a ballpark that I've wanted to go visit more than Riders Field in Frisco, Texas. Since I have family within a half hour of the ballpark, you'd think this would have happened by now. And yet, it was the annual baseball trip with the guys that had us in the DFW Metroplex for an opportunity to cross this absolute GEM off our baseball bucketlist. And let's just say, it didn't disappoint.
Best Part: It's the Lazy River that drew us there in the first place, and to be honest, we had a hard time leaving that water in the 7th inning. You can't have a more unique ballpark experience than floating in the water just over the right field fence, drinking a beer, and waiting for a home run ball to come your way. At just over $40 per ticket, I'd say it's DEFINITELY worth the experience for anyone to check it out for themselves!
Ballpark BONUS: The gear. I love EVERYTHING about the Teddy Roosevelt-themed logo. And when you go to a ballpark in September, chances are you are looking at some great team merchandise on clearance as they wrap up their season. So if you can get a 2022 Texas League Champions shirt for $10, it's not as hard on the pockets when you fill up a bag at the team store.
City BONUS: One of our friends on social media suggested we make a stop at the National Videogame Museum while in town. Man, this was like a walk down memory lane for all of us. Between the hour spent trying to win at The Oregon Trail (we all died BTW…damn dysentery 🙁) and the tokens spent trying to beat games in the vintage arcade (we did, however, become Michael Jackson's Moonwalker champions), this was a GREAT way to spend a couple of hours in Frisco before a game. Thanks Minor League Fan Club for the recommendation!
---
---
Make sure to follow us on Twitter, Facebook, Instagram, and YouTube for more baseball content like this @baseballmapper, where we always try to bring you closer to baseball.