When we heard the Savannah Bananas were doing a One City World Tour, we knew we had to go. The Savannah Bananas chose Hank Aaron Stadium in Mobile Alabama as the location to play two "Banana Ball" games. After securing the permission from family, clearing the calendar, we decided to make it a road trip. At just under 1,000 miles and 14.5 hours, it was a long one. Thanks to google location tracking, I had an up to the minute accounting of our trip.
2021-03-25 1:17PM: Leave Wadsworth IL for Paducah KY We decided it would be best if we got some miles under our belt if we wanted to make it to the first game on Friday night. The alternative would have been getting up at like 2am to hit the road.
2021-03-25 7:57PM: Arrive at sorta sketchy Best Western Paducah Inn I had a pre-covid gift card for Best Western, so I decided to use it in Paducah. Bad choice. It was clean, but there was a reason it was ranked 9th best in Paducah according to TripAdvisor.
2021-03-25 8:30PM: Go to The Freight House for dinner Oh man, this place was great. We walked in about a half hour before closing, but they graciously seated us anyways. I had the KY silver carp dinner. That's right, carp. I've never had it before, but it was really good, along with the brussels sprouts and Colamita Mexican Lager. Patrick found this place on TripAdvisor and knocked it out of the park.
2021-03-25 9:27PM: Back at Best Western for beer So, part of getting into a restaurant a half hour before closing is that they rush you right out. In and out in under an hour… Oh well, saved us time for a beer back at the hotel.
2021-03-26 7:32AM: Leave Best Western Got an early-ish start so we would have time for a stop or two.
2021-03-26 7:43AM: Arrive at Brooks Stadium, home of the Paducah Chiefs Paducah Kentucky is home to the Paducah Chiefs, a team in the Ohio Valley Summer Collegiate Baseball League. While there was nothing going on there at 7:43 in the morning, we took some pics, including this interesting sign that indicates that no sunflower seeds are allowed.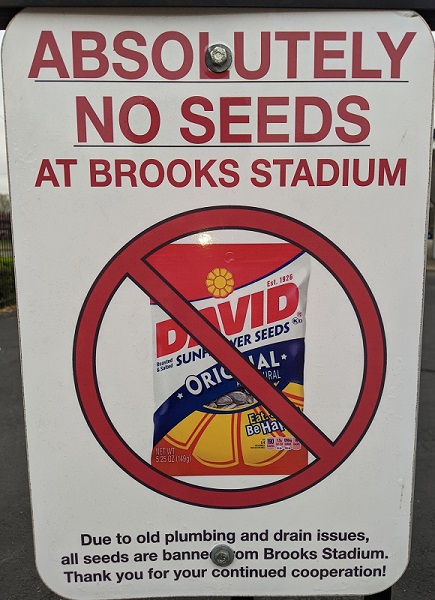 Paducah Chiefs No Seeds Sign
2021-03-26 8:04AM: Go to Waffle House for breakfast Is it really a road trip without a stop at a Waffle House?
2021-03-26 5:39PM: Arrive at Renaissance Mobile Riverview Plaza Hotel in Mobile AL Wow, this place is really nice. A room on the 20th floor overlooking the water was icing on the cake here. The downside is that the bar closed at 9pm, so we couldn't hang out down there.
2021-03-26 6:45PM: Go to Hank Aaron Stadium for Game 1 We made it just in time for the game. There was heavy traffic getting into the game that delayed us for a bit, we didn't miss much of the game. As we learned the next day, however, we did miss some awesome pre-game festivities.

Hank Aaron Stadium
2021-03-26 10:04PM: Arrive back at hotel for post-game beers Banana ball games are limited to 2 hours, so we were back at the hotel shortly thereafter to enjoy a beer and decompress after a lot of driving and a busy day.
2021-03-27 8:31AM: Go to Ruby Slipper Cafe for breakfast Unbelievably great food here. I've never heard of this place, but apparently, there are several of them in major cities along the gulf shore. On our amazing waitress's suggestion, we had an appetizer of cinnamon bites. That's the kind of eating we did on this trip… appetizers at breakfast. Pure indulgence. Any how, if you are in Mobile AL and want breakfast, go here.
2021-03-27 10:17AM: Go to USS Alabama Battleship Memorial Park Ok, this is easily one of the best government parks / museums that I've been to, which admittedly, aren't very many. Any how, you can tour a submarine and a battleship on several self-guided tracks through the ship. It's very interesting to imagine how life would have been with 2,500 people running around that ship when it was in service. I absolutely enjoyed my time here and at $15, I would recommend this to anybody that visits Mobile.
2021-03-27 1:35PM: Eat at Meat Boss Patrick's idea again. He's been here before. I had a pulled pork sandwich with probably half a pound of meat on it. It was fantastic. I'm not sure what to say about this… I feel like every pulled pork sandwich that I get from good BBQ spots are pretty much the same. Mac and Cheese was on point too. A solid lunch pairing with the Ruby Slipper breakfast.
2021-03-27 4:10PM: Take pics of Hank Aaron art in Central Business District I don't know where Patrick came up with this one, but a few blocks away from the hotel, there was a Hank Aaron mural painted over some plywood that was boarding up some windows. Worth a stop.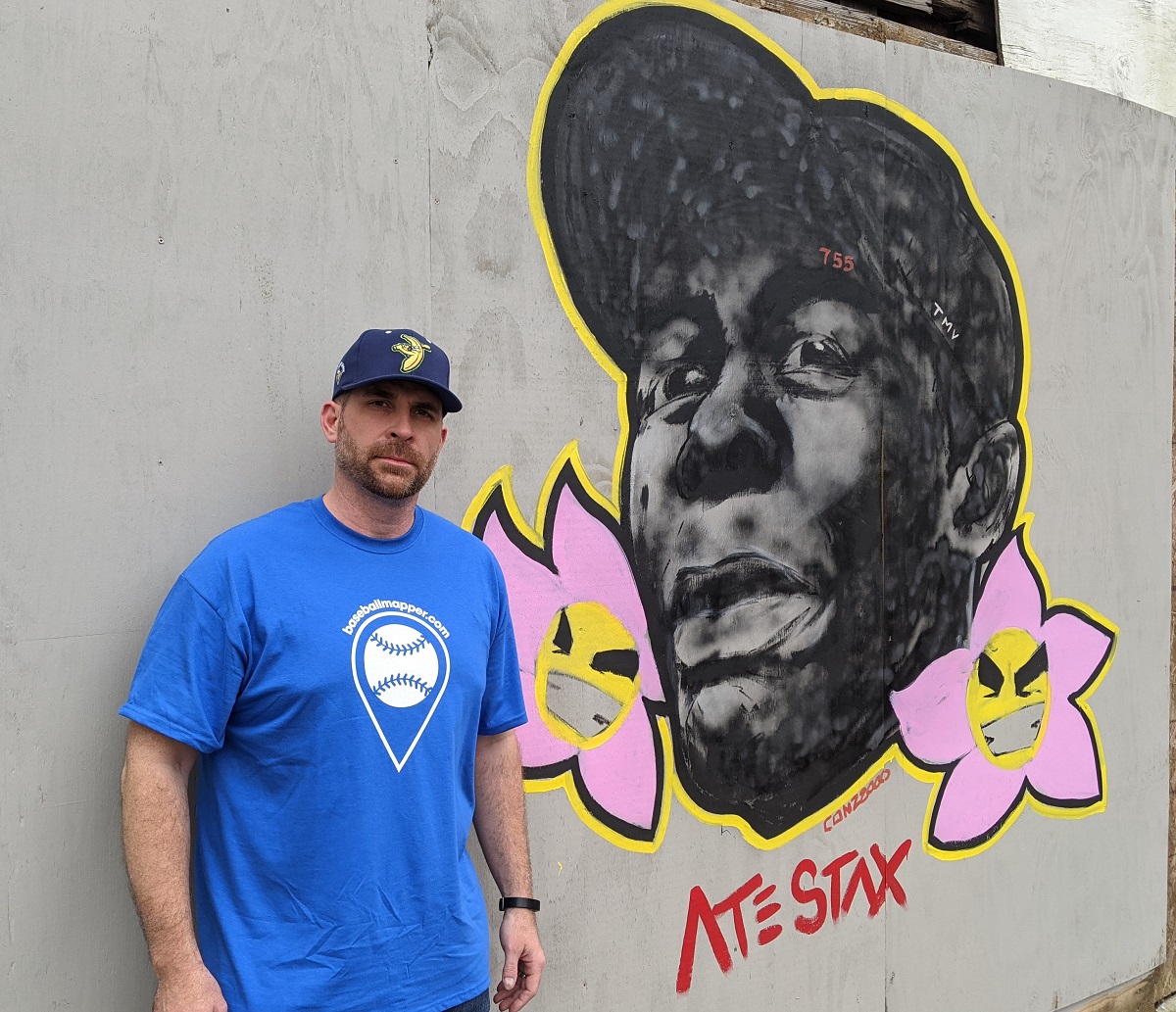 Hank Aaron Mural by conz8000
2021-03-27 4:35PM: Arrive at Hank Aaron Stadium for pre-game pics We went over to the stadium for game two a little early. This was awesome as it gave us time to explore the stadium before fans were allowed in, and gave me a brief moment to meet Jesse Cole, the owner of the Savannah Bananas, for the first time. I'm going to squeeze in my Jesse Cole impressions here in this trip diary. So, I've done some reading on Jesse, and talked with Patrick who was able to interview him. I came in impressed with his business acumen and that was definitely on my mind when I met him. He is one of the most singularly focused and determined individuals that I've met. This came off immediately when we met and remained throughout our brief time together. Without doing any research into why he wears that yellow tux, I've given this some thought, so I'll offer my opinion. I think that yellow tux is there, perhaps, to make him more approachable to his co-workers and fans. I think this is important to him. His determination and focus could be intimidating, and I think the yellow tux helps with that. But I also think it serves another purpose. Maybe it serves as a reminder to himself to be more approachable. You can see flashes of it in Jesse's face, where he goes from focused and a bit unapproachable, then in an instant, puts on a gracious smile as a fan or coworker approaches. This yellow tux uniform helps Jesse to stay focused on his mission, the fans first entertainment experience.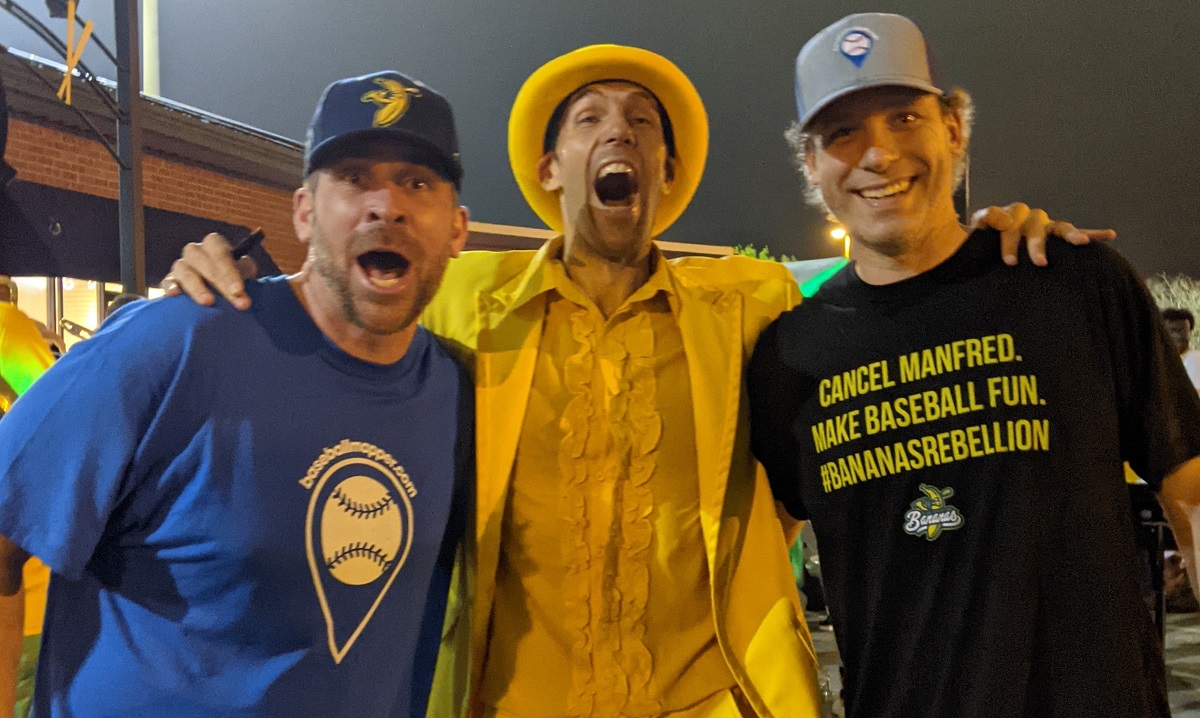 Jesse Cole, Patrick, and Cory
After Jesse went on to do his pre-game duties, we walked around a bit, filmed some video, took some pictures, and talked with a few of the Bananas staff. It was really cool. We went outside at around 5:35pm for the Bananas entrance dance in which Jesse and the entire team dance with the help of their band. That's right, they traveled with a band. I'm pretty sure there was a professional dancer or two in there with the rest of the team. Doors opened at 6pm and we entered with everybody else. Pretty much immediately after entering, we saw Jake Peavy in a full Bananas uniform. Patrick asked for a picture and Jake brought us in, and asked us if we wanted to hold his world series rings for the picture. That was pretty sweet.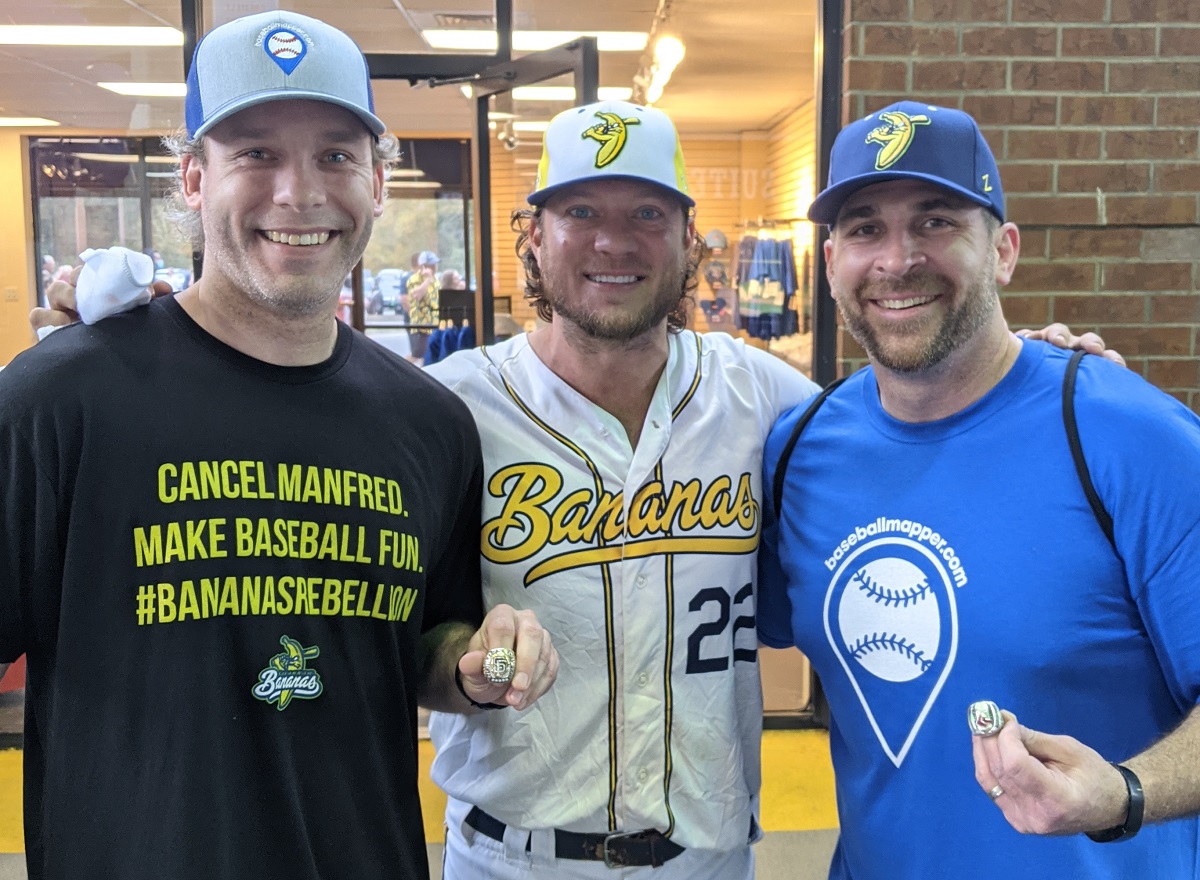 Jake Peavy, Patrick, and Cory
The game against the Party Animals started with the Party Animals entering over the outfield wall, then a pre-game weigh-in, boxing title fight style. As the game got started, things seemed more "normal". There was quality baseball to be seen. As the two hour mark approached, it was obvious that this game was not going to end with a team having won five innings (each inning is head-to-head, with the winner of the inning given a point, first to 5 points wins). The game ended in a showdown fashion. See this website for a better explanation of banana ball rules.
2021-03-27 10:15PM: Back at hotel for post-game 2 beers Heading back to the hotel fresh off of meeting Jake Peavy was pretty cool. That was a really memorable experience. A couple beers, throw that Peavy pic up on Reddit, and get some sleep for a long drive home.
2021-03-28 6:16AM: Leave hotel for drive home Deciding that I need a full night of sleep before heading off to work on Monday, we got an early start on the 14 hour drive home.
2021-03-28 11:33AM: Stop in Huntsville AL at Trash Pandas retail store Patrick likes hats. So Patrick made us stop so he could buy a hat in person. Luckily, even though the Trash Pandas weren't playing, their retail store was open with tons of hat options. Patrick picked up a hat for himself, I picked up 3 shirts for the family and we were back on the road.
2021-03-28 10:37PM: Arrive home after long drive Grueling. That's the only way I can describe the drive home.
---
What a great trip. I'd like to thank Jesse Cole and the entire Bananas organization for their friendliness and hospitality. It was a baseball experience like I never imagined was possible. I come away from this trip eager to bring my family out to Savannah weekend of banana ball so they can see it as well. I would definitely recommend a Banana Ball game as a family outing.