We are already halfway through the month of March and instead of being able to watch Spring Training, we're left waiting for the smoke to clear after the recent labor strife with the MLB and its players. And yet, teams from various other leagues around the country have gone out of their way in recent months to let fans know that there is NO issue with their seasons starting on time. The players will be in uniform, gates will be open, hot dogs and beers will be ready for consumption, and most importantly baseball will be played on their fields. It warms a guy's heart to know that the minor, independent, and collegiate summer leagues have our back when the hope for baseball seems lost.
Fortunately, it was time to plan our first trip of 2022. And you know, since we have a map FILLED with options, we can really head out anywhere in America. Knowing that we have an open road and a burning desire to get back in a ballpark (maybe even someplace new) we decided to make the only rational choice possible. We're heading right back to Alabama…for the 2nd April in a row.
We had options this time around, but seeing the Savannah Bananas again on their World Tour just seems like the best way possible to start a baseball season. Last year, there was only one stop available on their Tour, so we headed to Mobile. And while I personally loved making my way back to Hank Aaron Stadium, this year's travels bring us to Historic Rickwood Field in Birmingham for some Banana Ball. There is something majestic about a ballpark that is over 110 years old and once housed true legends of the game like Babe Ruth, Satchel Paige, Honus Wagner, and Shoeless Joe Jackson. A stadium that can hold over 10,000 fans and has such a decorated history should be home to a regular team each year, but that isn't the case with Rickwood. The famed stadium isn't used for many professional games anymore, so that's what will make this Bananas' Tour stop a truly special event. Rickwood Field is hallowed ground that appears to be both an incredible venue for a game, while also being a living museum for baseball of decades past. You can expect A TON of pictures taken, for sure!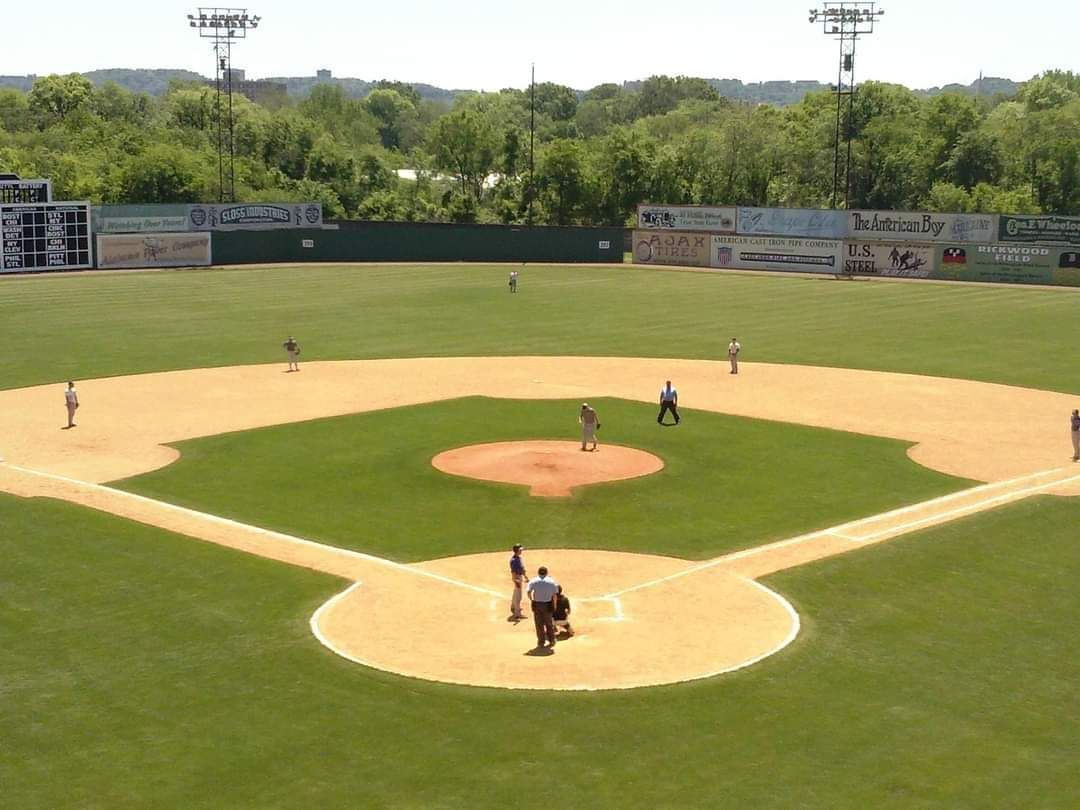 Rickwood Field in Birmingham, AL. Photo credit: Mike Martin
For more information about Historic Rickwood Field, or to see their gear, click here: https://rickwood.com/
While there, we know we can expect a little of the unexpected from Savannah's traveling team. Last year brought many surprising events that I had never seen at a baseball game, such as an entrance via marching band escort, as well as a boxing match-style weigh in. What surprises lie in store for 2022? Well we can't wait to find out.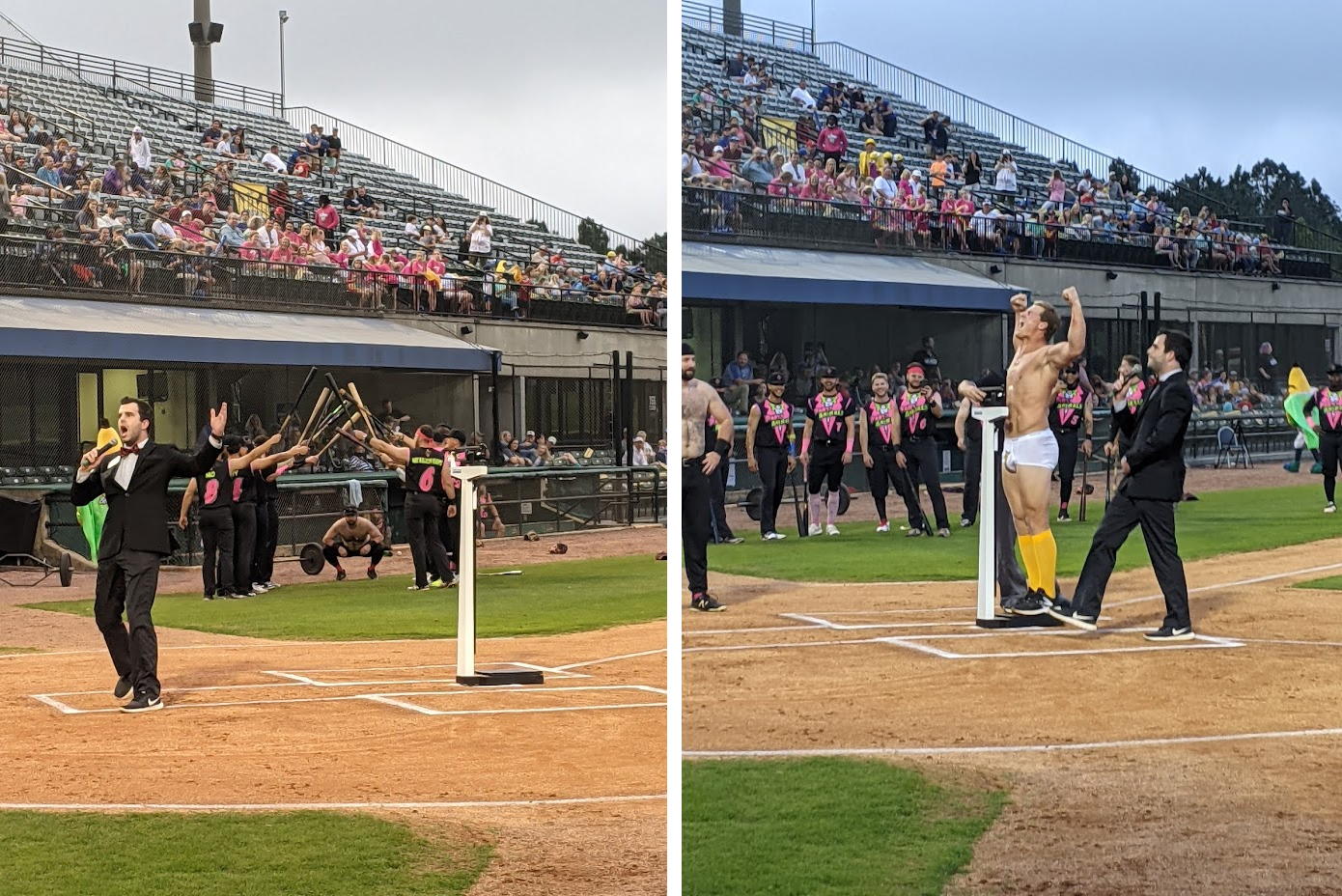 A 2021 Pre-game weigh-in between the Bananas and Party Animals in Mobile, AL.
For one, I'm waiting to see what World Tour shirt is going to be available after they held a fan vote to choose a winner. That's what I love about the Bananas. It's ALWAYS about the fans. So if you get a chance to see them on the road this year, or even catch them this summer at their own ballpark Grayson Stadium, DO IT! For more on their schedule, social links, and incredible merch, visit: https://thesavannahbananas.com/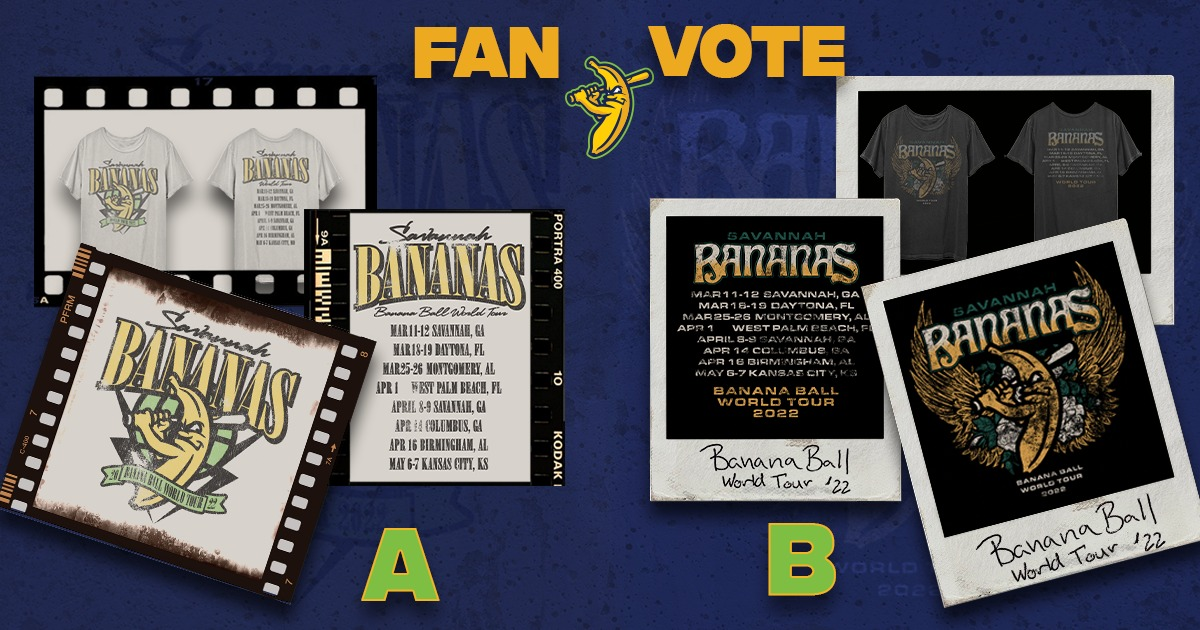 2022 World Tour shirt options for the Savannah Bananas
Some other possible stops while in Birmingham: The Southern Negro League Museum is located in the city http://www.birminghamnslm.org. Also, there is Birmingham's Civil Right Institute: https://www.bcri.org/ Hard to pass up all of this city's notable history.
This trip down south wouldn't be complete without a stop on the way, just outside of Huntsville to see the Rocket City Trash Pandas. This will be our first time visiting the new ballpark, Toyota Field, as well as the first time seeing this Double-A affiliate of the Los Angeles Angels. Last year on the way home from Mobile, we saw the park gleaming like a jewel off the highway. We couldn't miss the opportunity to top at the Trash Panda Emporium nearby and peruse all of their gear. If you look at the photo, you know why I had a hard time picking just one. Their logo and merchandise is AMAZING so I plan to get even more this time around. Check it out for yourself!: https://www.milb.com/rocket-city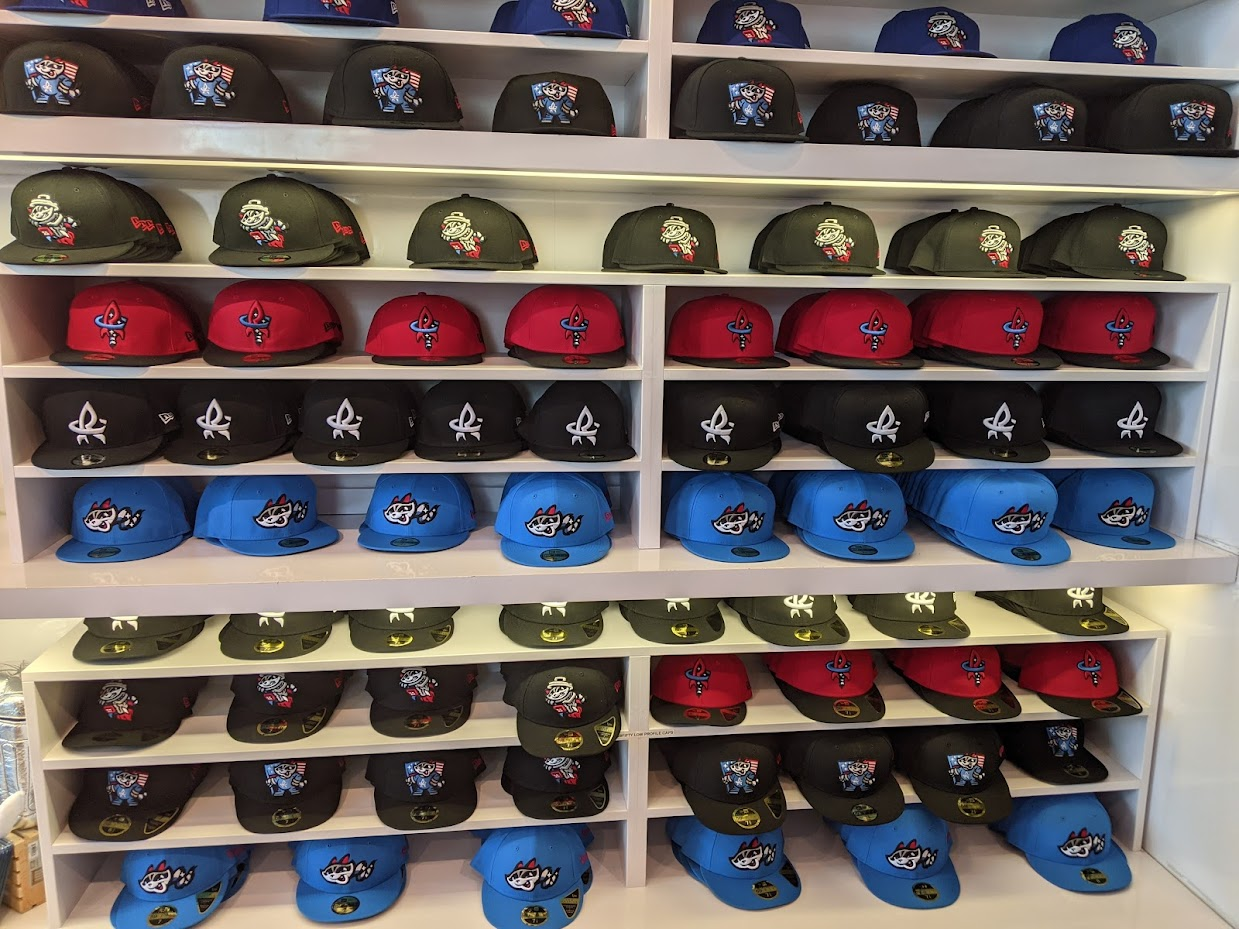 Fully-stocked hat wall at the Trash Pandas Emporium in Huntsville, AL.
After we get this first trip in the books, it'll be time to start planning the next one. Baseball season is underway soon and nothing's better than packing up the car and hitting the road. Use the map and plan your own trip this spring! http://www.baseballmapper.com
---
Make sure to follow us on Twitter, Facebook, Instagram, and YouTube for more baseball content like this @baseballmapper, where we always try to bring you closer to baseball.