By the time the Sasquatch take the field at home on May 27th to face the Badland Big Sticks, it'll have been over 650 days since baseball has been played at Black Hills Energy Stadium. What do you do when you've had to wait so long without baseball? Well, besides crying… We've all adapted and adjusted to a new "normal" over that time. It's crazy to think that in the spring of last year, businesses would be forced to close and Americans would begin to change their everyday way of life.
At the start of 2020, Sasquatch owner Eric Schmidt had finalized the purchase of a lifetime to become part owner of the team. Little did he know how much the baseball landscape would be about to change. What was supposed to be a joyous time was quickly transformed into frustration and sadness. What do you do when you have the keys to a beautiful new car, but you aren't allowed to drive it? The Covid-19 pandemic has been detrimental to many people both in America and the world altogether, but it was not without its surprise blessings along the way. To find out a little bit more on his perspective, I sat down for a conversation with the new owner and former GM of the Spearfish Sasquatch, Eric Schmidt. The goal: to find out what the last year had been like for him, as well as what to look forward to in this exciting 2021 season when baseball finally makes its way back to the Black Hills.
---
Patrick: It may have been a while since some people in the community have seen you around. I mean, it's been a really long time! What's changed in your life over the last year or so during the pandemic?
Eric: First and foremost, having a daughter last April. She just turned one. So that's a big change in our lives. Our summer looked a lot different in 2020 than it normally would. It also opened up the opportunity to be at home and raise our daughter instead of being at the ballpark everyday, so it was a blessing in disguise as far as that goes.
Outside of that being a big change, we, myself and partners, purchased the team in February of 2020, so just stepping into that ownership role has been a big change for me personally.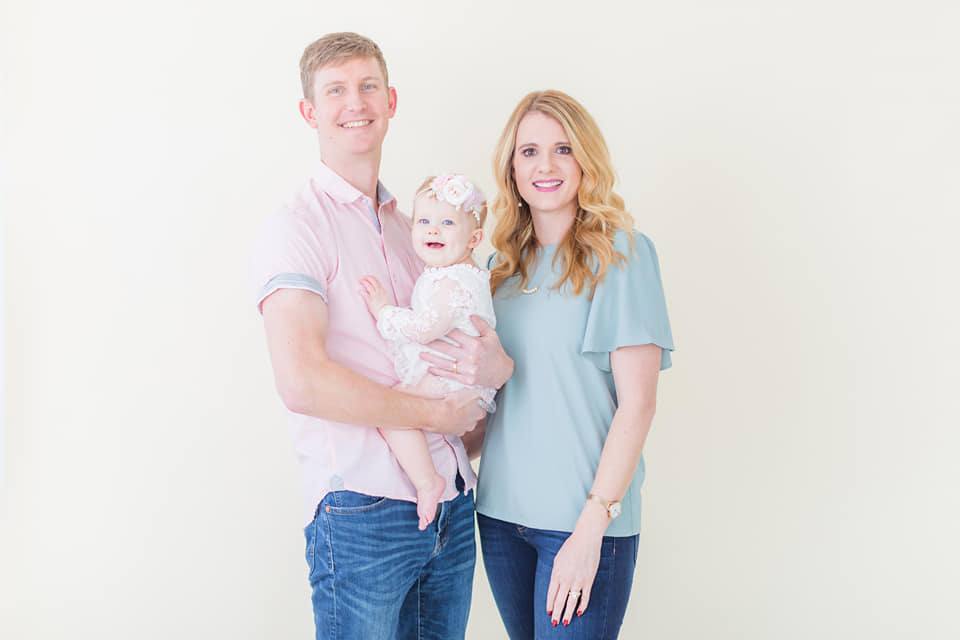 Owner Eric, with wife Heather and daughter Charlotte
That's unbelievable, but you're right. What a blessing to have that time! Now, I'm going to ask you to speculate a bit and consider the fans' point of view. What do you think your Sasquatch fans have missed the most?
I think what they missed most is just the atmosphere. Being able to get out and socialize, have a beer, have a hot dog, and watch some quality baseball.
It's no secret that the experience could "feel" different this year for a lot of reasons. With that being said, what are some things that fans can expect when they come to a Sasquatch game this year that may be different from the last game they attended?
They're going to see some upgrades throughout the ballpark. We've upgraded a nice little seating area to eat concessions at. We're upgrading netting and extending that for fan safety, which has been on our list for a while now. And then we're also in talks, hoping to get it done at some point this year, is a brand new party deck. On top of that, we're really going to be branding throughout the whole ballpark so when you walk in you're really going to feel like it's a Spearfish Sasquatch ballpark. To really make it feel like more of a minor league atmosphere.
Oh that's great! The more Sasquatch, the better! So as someone familiar with the collegiate summer baseball landscape, it seems that there are a TON of new teams this year, including THREE new teams in the Expedition League alone. That means there has to be a lot of competition for college talent. What parts of the country are the 2021 Spearfish players from?
We actually only have one kid on our roster from South Dakota. We literally draw players from coast to coast, North to South. It's all based on relationships. We try to get these players out in front of the fans as much as we can through social media because that's the only way they have access to them right now. All the faces are going to be new this year. We have one guy that's returning that was here in 2019. So it's going to be a whole brand new team for everybody to learn and figure out their favorite.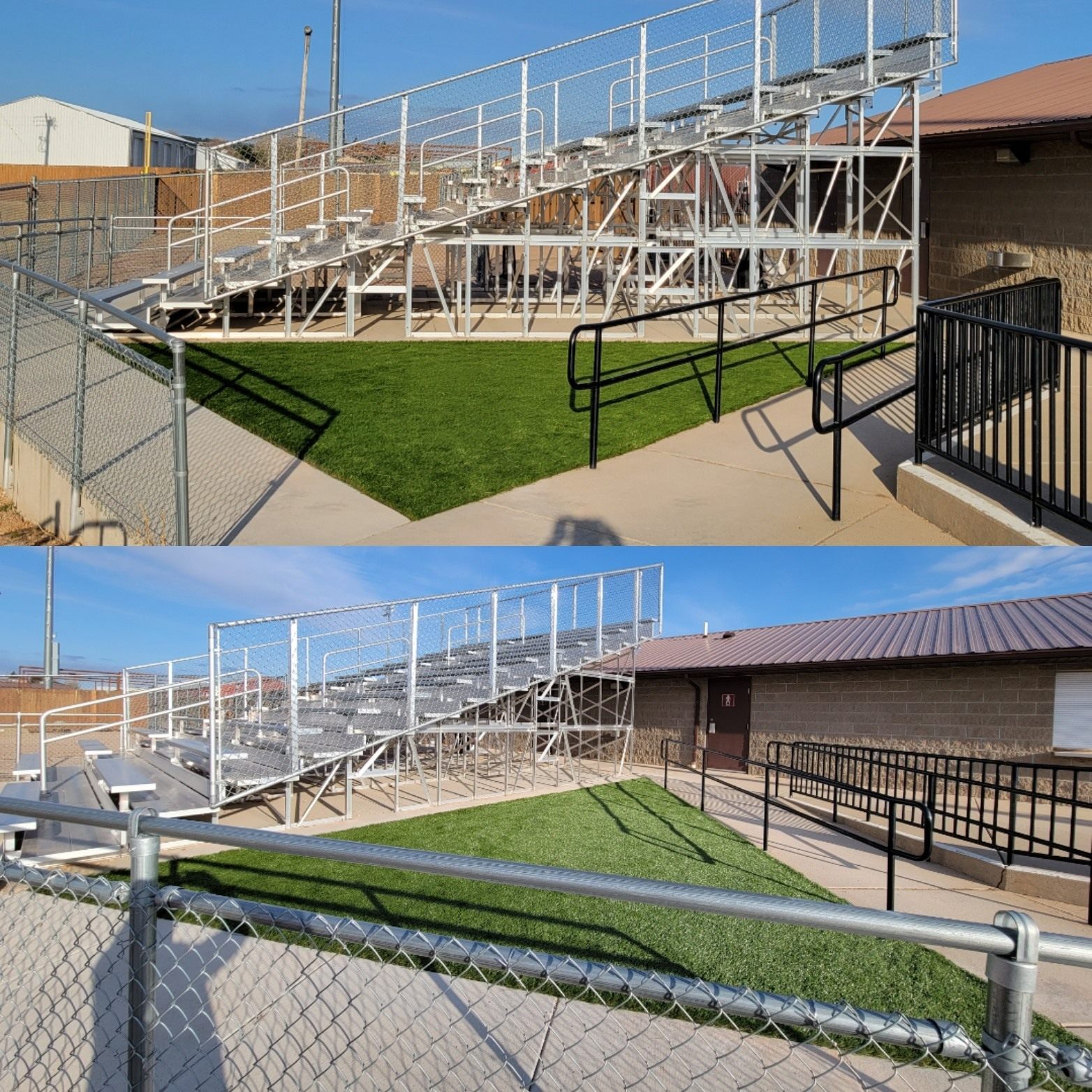 New seating area at the park for 2021
A lot of opportunities for new favorites this year at the ballpark. That's for sure. Now let's hear a little bit about what the fans LOVE about coming to a local ball game….the PROMOTIONS! Are there any sweet giveaways or gameday promotions you're excited to have this season that you can share with us?
We're doing some Sasquatch jerseys; the first 500 fans are going to get one with a food donation so we're really excited about that. And a bobblehead of course. We're going to be revealing a new bobblehead this summer. But we have a lot of fun theme nights planned as well. Bark in the Park is always a very popular one. One new one we're going to try this year that I think will be fun is an All You Can Eat Night: all the burgers, brats and hot dogs you can have through the 7th inning.So if you and your buddy want to have a hot dog eating contest, you can go for it. We're also doing a "Here for the Beer" night. Your ticket includes beer until the visiting team scores their first run. So get in line and hopefully we're pitching a shutout for eight innings!
Now THIS sounds like a lot of fun and maybe I need to schedule time to come out for that! But in all seriousness, now that you are the owner of the team now, your personal goals for the club have had to change a little bit. What goals do you have for the Sasquatch organization going into the 2021 season?
Well, we of course have attendance marks that we want to hit. Let's see…a lot more interactive promotions and giveaways. And to get out in the community more. We're going to do a camp this year for the first time ever that our players and coaches are running. Just to kinda reach out to the youth a lot more, especially youth baseball and softball kids and really try to get them more involved. Get them exposure and access to our team. That's going to be in late June.
That sounds AWESOME! That'll be so great for the kids and for the community. Finally, being that we are SO CLOSE to that first homestand and this is a team that hasn't played a game since 2019, what one thing are you most looking forward to this season?
The one thing I'm looking forward to most is having the community at the ballpark. Bottom line. That's why we do this. It's to provide the community with an affordable, family-friendly entertainment. I love baseball but it's way more than that. Just to see the familiar faces and hopefully new ones too. Just to see the community back at the ballpark and having that first home game of the season. It's just going to be awesome. It's an awesome thing to just walk through there and see people having a good time.
---
Make sure to follow us on Twitter, Facebook, Instagram, and YouTube for more baseball content like this @baseballmapper, where we always try to bring you closer to baseball.