Baseball Twitter is a beautiful place. Yes, I really mean that. I think most people would assume that it's nothing but hate and venom spewed at teams, but that's not really the case at all in my experience. It's a diverse group of team super fans, former players and current ones, coaches, front office staff, ballpark chasers, collectors, artists, and other makers. In other words, it's an eclectic group where you can easily find people who share a common interest. And who knows…maybe you can even make some friends.
Well that's what we did with Erik Mertens, aka "Erik the Peanut Guy". He's the longtime on field host of the Tri-City Dust Devils. But if you follow him on social media, what you see is a huge baseball fan who loves to travel the country to different ballparks and wants nothing more than to get every on-field hat he can find (here's a snippet of his hat wall).
This past summer, the opportunity arose to meet him and other great baseball Twitter friends in person, so we had to jump at the chance. Even if that meant we would be taking a flight from Chicago to Montana. Did we mention when it comes to baseball, we are dedicated?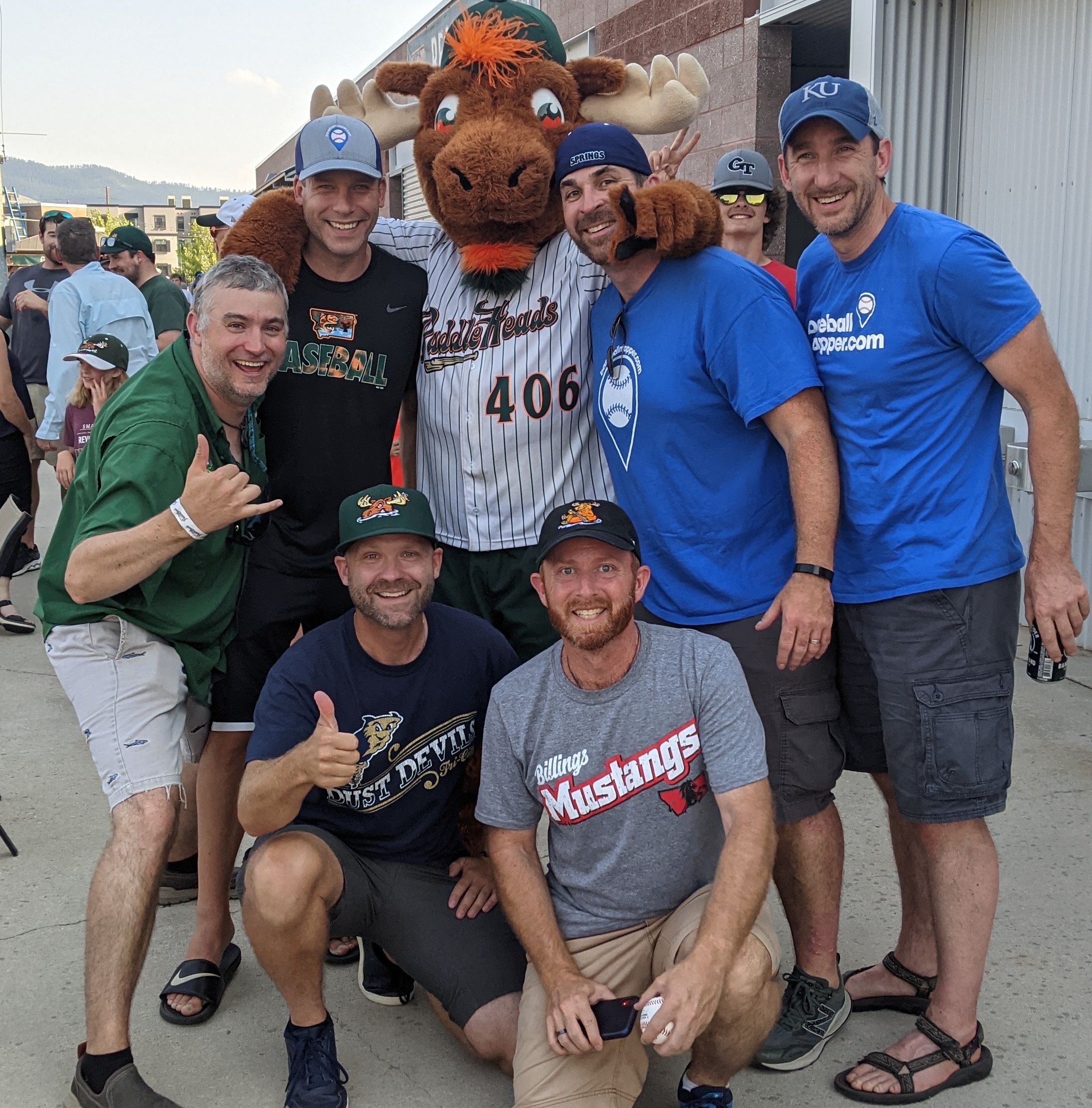 While in Missoula at the PaddleHeads game, I was fortunate enough to spend some time talking to Erik about a lot of things, but especially his dad. I had recently seen an episode of James Christopher's show Let's Get Two where he talked about a fund created in Erik's father Ed's honor. I thought it sounded incredible at the time, so I knew I had to find out more information about it.
Ed Mertens was a fan of his local team, but was even more so a supporter of his son Erik. He would attend games to see his boy at work running all over the place at Gesa Stadium. And while he was there, he would take it upon himself to pick up special souvenirs from the team store for random fans at the game. Usually a little trinket or something from the ballpark to put a smile on a kid's face. Erik said that he would do this all the time and would never want any attention for it. He instead insisted his beloved son and "Peanut Guy" would be the one to pass out the gifts. Just over four years ago Ed Mertens would suddenly pass away, but his legacy at the ballpark would still remain. Once the community found out that Ed had been secretly giving gifts to children at the games over the years, the team and community wanted to continue the tradition, and so "Ed's fund" and official ballpark gift cabinet was created.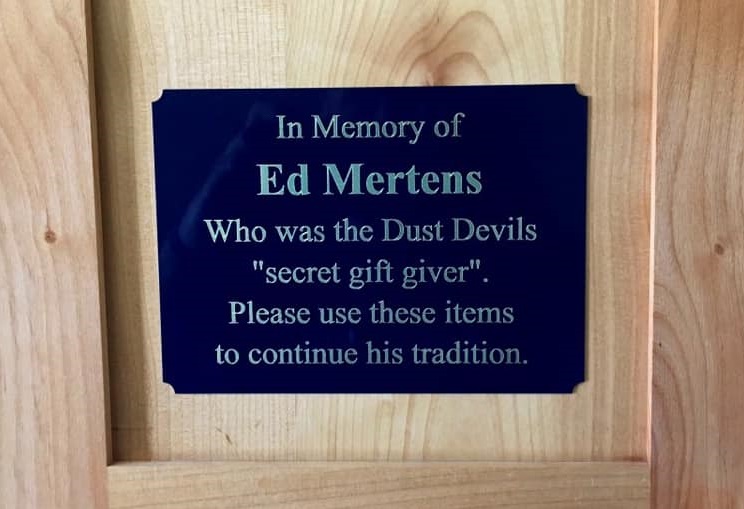 Photo credit:
https://www.facebook.com/ErikthePeanutGuy/photos/4083892318366606
Listening to Erik talk about this unique element at his ballpark, as well as hearing about how special his father was, felt truly inspiring to me. It makes you realize just how special baseball can be, and that at times, it may have nothing to do with the game on the field. For one, it's what brought me 1,500 miles west to meet incredible people like Erik Mertens. People will ALWAYS travel to step inside a new ballpark and experience it. But baseball is also about community and fellowship, which is something that Ed focused on every game he attended. He took it upon himself to make an impact on people who came out to the ballpark…and he wasn't even a Dust Devils employee! The gift cabinet at Gesa Stadium in Pasco, Washington was created solely based on the generosity of one man. Since his passing, the entire community has been inspired to "pay it forward" as Ed Mertens used to do every game: buying balls, mini bats, and other souvenirs for the staff to give away to fans who deserve a little extra "team spirit".
But it really makes you think….what if your local ballpark did the same thing? What if you took the opportunity at the next game you attend, chose another fan or two, and picked out a couple of gifts for them from the team shop? Take it a step further and see if your team would be interested in creating their own "Ed Mertens"-style gift cabinet throughout the season and accept donations. This is how change happens: when someone decides to take the initiative and ultimately ends up inspiring the community. After all, wouldn't it be great if we could all be a little more like Ed?
---
For this "Inside the Ballpark" interview, we were fortunate enough to connect with one of the most sincere and genuine on-field hosts (and overall person) you could ever hope to meet. We're talking of course about…. Erik the Peanut Guy from the Tri-City Dust Devils! He takes time to discuss how he got into the job, his love of baseball and travel, and who influences his baseball stadium "persona". Most importantly we talk about his father, Ed Mertens, and the lasting impact he has had on him, the team he loves, and the entire Tri-Cities, Washington community. #EdsFund #EdMertens
---
For now, if you feel inspired to pay it forward and want to contribute to the legacy of "Ed's Fund" with the Dust Devils, contact the front office: https://www.milb.com/tri-city-dust-devils/about/front-office
Want to follow Erik the Peanut Guy (it's a no brainer):
Twitter: @ItsErikMertens
Facebook: Erik the Peanut Guy
Instagram: @erikthepeanutguy
---
Make sure to follow us on Twitter, Facebook, Instagram, and YouTube for more baseball content like this @baseballmapper, where we always try to bring you closer to baseball.