I think that if I had ever been a ball player, I would have found myself in the independent leagues. Of course, I'll never know, but it is fun to speculate. It has to be so hard to make it as a pro. In fact, everything I've ever read shows that it's damn near impossible. The odds are really against you. Something like only 10% of NCAA ball players ever get drafted by Major League Baseball (and that number could dwindle as the league has already begun to shrink the draft from 40 rounds to 20 in the last two years). But that's the beauty of it, right? You don't have to be a highly-touted recruit, or even get drafted by an MLB team, to love and play the game. Even as a fan, I'm incredibly passionate about baseball. I never want it to end. I get borderline depressed when it's over. And that's why I think I would have been a great indy ball player. These are athletes playing baseball strictly out of love and not really for the money in the paycheck. That's frankly because we're not talking about a whole lot of coin at this level. According to Indy Ball Island, players would be most fortunate to make around $3,000 a month at this level. Some independent ball players don't even get a salary at all. So in these players' cases, it really is about not wanting baseball to end.
Turns out, that's the kind of fan I am as well. I'm always chasing baseball, even into the fall. It's awesome if my MLB team, the Chicago White Sox, are in the postseason. But if you know the club's disappointing playoff history, that doesn't happen too often. Instead, I'm usually looking to latch on to ANY baseball team nearby who might be having a postseason run.
And that's how I ended up in the car on my way to Lexington, Kentucky in the third week of October. Since the independent Atlantic League is having their championship series so late in the season, baseball isn't quite over for me yet; something I have in common with the fellas on the rosters. Oh and did I mention that I have a good friend who lives in the city, who doesn't mind me crashing in his basement overnight? I guess even baseball-starved fans need host families too. From the northern Chicago suburbs, it's only 6.5 hours to Lexington. I can make that drive in a day no problem. And so here I am well in the heart of fall….chasing baseball.
Part of my good fortune is a very understanding wife who sees my eyes light up with any baseball opportunity. I can't help but feel like she would have made for the best kind of player's wife: considerate and patient while I chase my dream.
Maybe the story is even a little too perfect considering it's a trip to see the Lexington Legends (that's FORMER minor league baseball affiliate Lexington Legends, to be exact). This is a team with a beautiful stadium, a strong fan base, and it was almost completely shuttered based on Major League Baseball's decision to contract 40 teams last year. Fortunately, they linked up with the Atlantic League of Professional Baseball and maybe it was a blessing in disguise. After all, they currently stand one win away from their first ALPB championship in their inaugural season in the circuit.
It would have been a shame had players like the 40 year old Brandon Phillips, the 3-time MLB All-Star and former Gold Glove award winner, as well as major prospects like Courtney Hawkins and Keon Barnum, never had a chance to play here. Maybe that's why Phillips decided to extend his stay in baseball even longer, by becoming "Dat Dude" in Lexington when he became part owner of the franchise. Former big league players don't always want to let go of baseball either.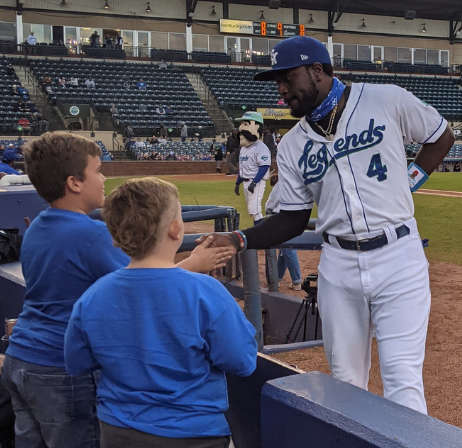 Phillips pre-game interacting with some Legends fans
And so by the evening of October 19th, I arrived at Whitaker Bank Ballpark with my longtime friend Jeremy, and we watched as the Legends hit moonshot after moonshot into the Lexington night sky. Ultimately, they prevailed and took home the ALPB trophy after handling the Long Island Ducks pretty easily by a score of 13-2 in Game 4. Courtney Hawkins hit three home runs HIMSELF! It was hard not to get sentimental about it while the team celebrated and sprayed champagne on one another in front of the sparse crowd. I thought about how this may very well be the last game of pro ball these players ever play. The season has to end for all of us.
Baseball is truly a gift for both the athletes on the diamond and the fans in the stands. What a perfect way to put a bow on 2021. I'll have all winter to think about that game, the $2.00 beers and the 25 cent hot dogs….
and man, that next game can't come soon enough.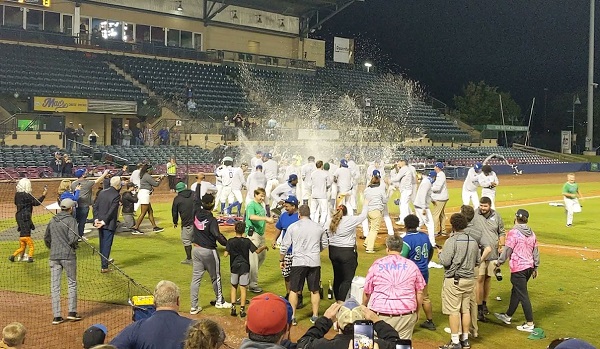 A celebration for the 2021 Atlantic League champions
---
Make sure to follow us on Twitter, Facebook, Instagram, and YouTube for more baseball content like this @baseballmapper, where we always try to bring you closer to baseball.