Even as the calendar turns to November in Chicagoland, and the weather clearly isn't designed for baseball, that doesn't keep me from missing it. And granted, since this year meant a whole lot less baseball games to attend for all of us, any opportunity to go to a game is notable and worth considering. But going to a baseball game in November? Is that even possible?
Well for years that's been an option if you are out west in the Phoenix area. The Arizona Fall League hosts its games and usually is wrapping up its playoff series in November. It's a great opportunity to catch baseball in a great climate at MLB's spring training facilities. So baseball in November has been an option, but that's in the pre-covid era. There weren't even Arizona Fall League games to look forward to this year.
Enter the Savannah Bananas.
If you are only a fan of your major league team, you might not know who they are. But if you are simply a fan of baseball and you don't know about the Savannah Bananas, shame on you. The Bananas are a collegiate summer league team that plays in the Coastal Plain League in Savannah, Georgia. They have been around since 2016 and have been breaking all kinds of CPL records for attendance, national merchandise sales, etc. They have a HUGE social media presence and you can find some of their players dancing on TikTok, as well as a team that is extremely active on platforms such as Twitter and Instagram. They are hard to miss. And I think all of that starts with the owner Jesse Cole who spends the games running around in a bright yellow tuxedo and hat with a microphone in his hand.
The reason I mention them is that last year they began a tradition called Fansgiving, offering up a baseball game in November to their fan base. It's just a one-off exhibition against a team called the Pilgrims (who dress in customary pilgrim garb including the traditional hat and collar). After an inaugural success, the Bananas have decided to make this an annual event. And for a team that just isn't satisfied entertaining during the summer months in the Coastal Plain League, it is great to see them expanding their reach in the community, offering up baseball in the offseason.
And you know what, people will go! Including this guy, getting a discounted plane ticket to fly out to Savannah International Airport in the middle of a pandemic.
Needless to say, I was not surprised when I pulled up to Grayson Stadium and found every parking lot filling up. The weather was just around 70 degrees at the 6:30 game time and judging by the crowd, people clearly have missed their Bananas over the last few months. Walking into the stadium felt like a true entertainment experience, which is one of Cole's main focuses for his team. There was a DJ booth outside the main gate and music was pumping as people were filtering into the ballpark.
Once inside, with a Service Brewing Banana Beer in hand, I settled in to watch a little "Banana Ball". What the team had decided to do was to experiment by implementing a set of unique rules for this game. You can find a list and explanation of rules here.
From what I witnessed there were some very amusing elements, to include batters stealing first base on a wild pitch and the elimination of walks altogether (these were instead called "sprints" as the catcher has to get the ball going around the horn so all fielders touch it before it's live again. In the meantime, a base runner can run as long as they want after ball four until that ball makes it back to the pitcher). Talk about pressure to throw strikes! And even though I didn't get to see a fan make a catch in the stands, it would have been awesome to see that become an out on the field, another Banana Ball rule in play. I mean, now fans almost HAVE to bring a glove to the game!
Not every rule was a big success though. The only thing I wasn't a fan of was the two hour time limit. That's only because I didn't want the game to end. Between watching the choreographed dance by the players between innings and seeing the owner throwing candy corn into the crowd, it was really hard to accept I was having to leave one of the most enjoyable baseball experiences of 2020, or ever. And while I don't know exactly when I'll be back in Savannah for another game, I have a feeling it won't be long.
The Savannah Bananas are onto something here. They pride themselves on being an organization that is "changing the game of baseball", and I truly agree with the sentiment. I couldn't help but feel like I was watching the future of minor league baseball. It's no secret that 2020 has brought major changes to both the minor league and independent baseball landscape with the restructuring of the Major League farm system*. It will be the responsibility of all these teams and owners, like Jesse Cole, to find a way to make their product something that baseball fans remember and cannot wait to be a part of again. It's either that or risk losing a baseball franchise in a city altogether. The coronavirus pandemic has had a major impact on sports teams around the country, and it's possible that without a lot of determination and creativity, some organizations will not make it through this. The Bananas have a jump on this though because creativity is right in their wheelhouse. And for the 1000+ of us at the second annual Fansgiving game, we understand that better than most. We were lucky enough to see the future of baseball firsthand.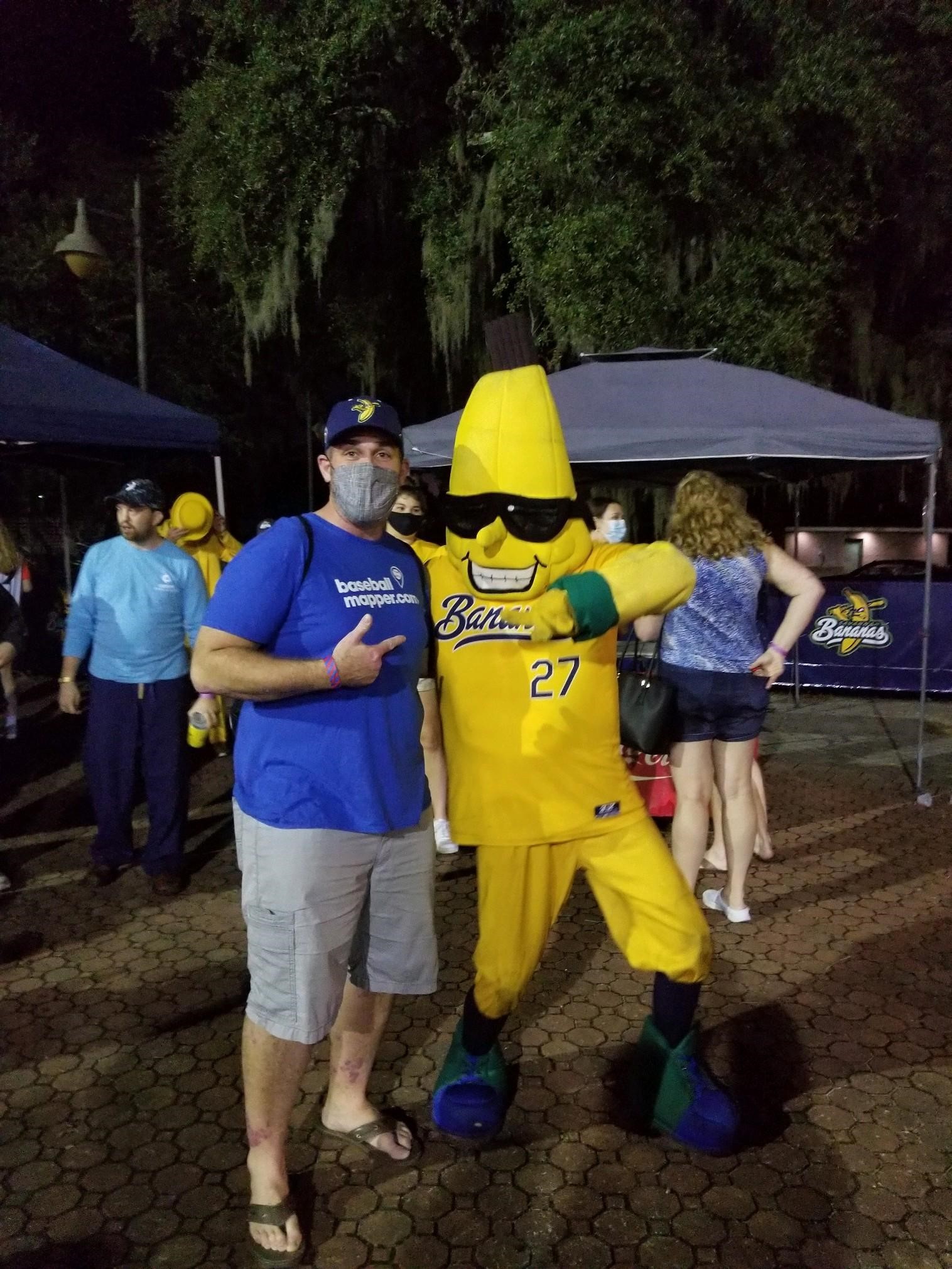 *"Game recognize game."*
To learn more about MLB's restructuring of minor league baseball, click the links of these great articles: https://www.espn.com/mlb/story/_/id/29795127/why-mlb-minor-leagues-know-end-sept-30
https://ballparkdigest.com/2020/11/02/details-of-mlb-takeover-of-milb-emerge/
https://stadiumjourney.com/news/yanks-fire-first-shots-in-minor-league-shift