Growing up watching Chicago Cubs baseball on TV, I always felt jealous of the people who lived off of Waveland Avenue across from the ballpark. I mean, how amazing would it be to have baseball in your backyard?
Well the Beloit Snappers, a Single A team in the Midwest League, play their games at Pohlman Field (for now). And for the residents who live on Skyline Drive, they also have the good fortune to have baseball in their backyard too. I can even think of a few times that upon walking towards the front gate, I'd see a foul ball shoot over the road to help decorate someone's lawn. You can also expect to see some of the neighbors of the Snappers sitting in lawn chairs listening to the announcer introduce batters and read promotions between innings. The ballpark's appearance can be described as "low-key", nestled comfortably in the neighborhood surrounded by homes and even another ballfield with the local little league teams or softball players swinging for the fence next-door to the big club.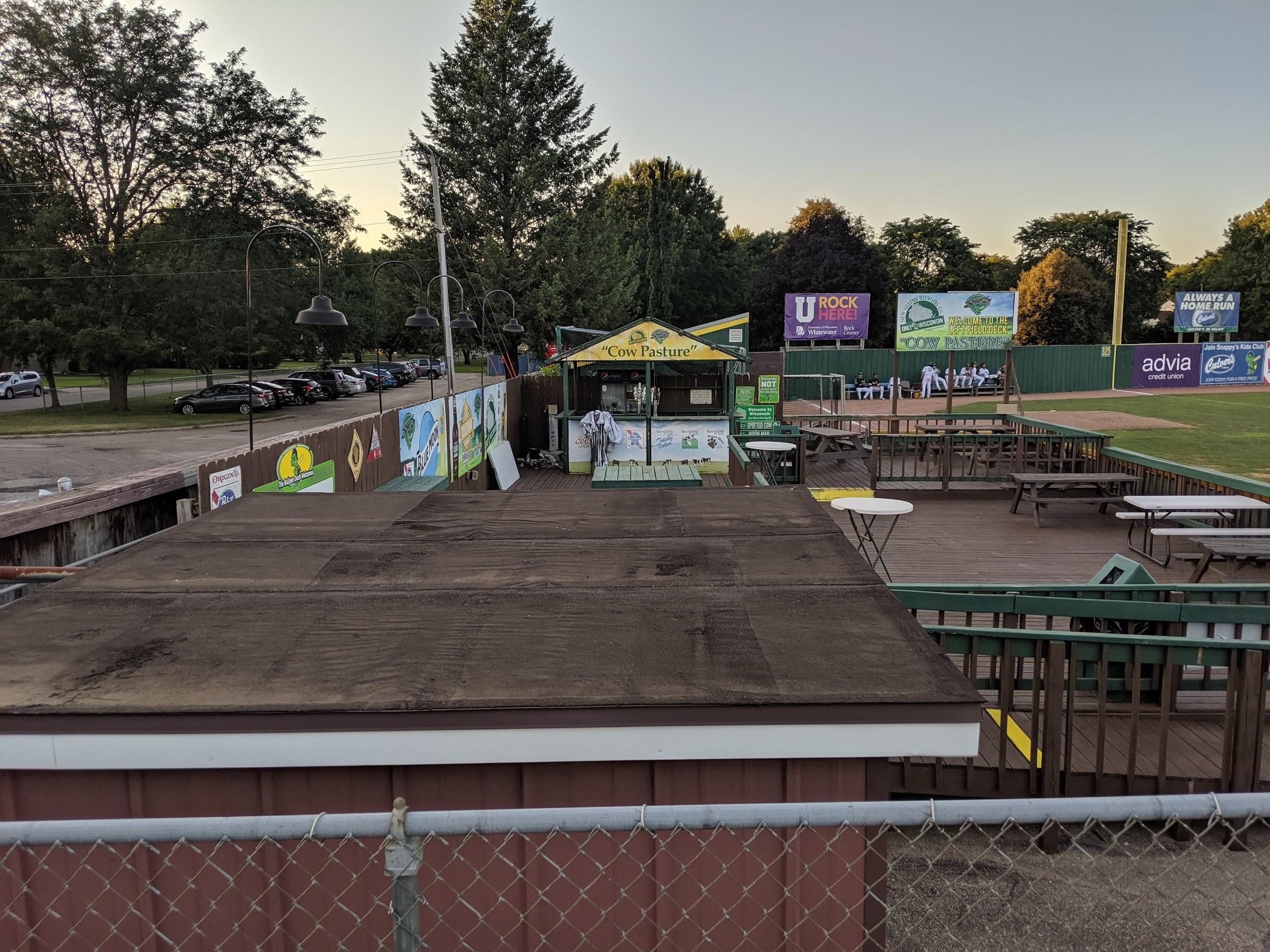 Another great aspect of this ballpark is the local Wisconsin fare that you can partake in during the game. A friend once told me that you can now identify where people are from based on the beer they drink. This is definitely the case at Pohlman Field where the "Cow Pasture" is a picnic area sponsored by a popular local brewery in New Glarus and their regional favorite, Spotted Cow beer. Partner that was some cheese curds from the Firehouse Grill and you are definitely in Wisconsin heaven.
One thing that's bittersweet is how this small-town team typically plays in front of a small audience. The stadium was built in the early 80s and only seats around 3,500 fans. In fact, this is one of the main reasons the Snappers will be forced to leave this stadium if they hope to keep the team in Beloit. The charm of this "small town feel" stadium is a major contrast to some of the newer ballparks for the competition inside the Midwest League. MiLB afternoons at Pohlman Field are on borrowed time. While I do enjoy seeing a full stadium buzzing with fans excited about the game, there's something to be said about the intimate feel of this ballpark. You can't help but imagine people from the neighborhood walking their dog and deciding at the last minute to go down the road to take in a couple hours of baseball on a beautiful night. It's part of what makes a trip to this stadium so unique. And if you find yourself wandering down Skyline Drive, you should walk up to the box office and grab a pair of tickets too, while you still can.