GAME DAY MEMORIES: Geneva, IL (Kane County Cougars/Class A Midwest League)
One of my favorite baseball stories of all time has nothing to do with the game being played on the field but more so tied to my experience in the stands.
It's common for a high-profile baseball game (like Yankees/Red Sox or a World Series matchup) to draw high-profile celebrities, but it's not common that Single A minor league baseball provides access to such celebrities on a random summer evening in the burbs. However, THIS was such an occasion. And it was truly a once-in-a-lifetime experience.
It was a late summer evening at Fifth Third Bank Ballpark in 2013, and I was about to see my first Kane County Cougars game. It's a team that's always been just over an hour away from my house, but I never had the opportunity, or good reason, to attend. But when you have a friend that's connected, and potential free tickets behind home plate are available, you start to run out of excuses not to go. I'm glad I decided to make the trip that day, for sure.
On August 31st around 5:00 p.m., my family had met up with our friends for a little pizza at Gino's East down the road before the game. It was Star Wars night at the park. The Cougars would be donning their custom "Chewbacca"-inspired jerseys. We could count on endless movie clips and other Jedi entertainment between innings. Once we arrived inside, we settled into our seats in section 108 behind home plate. For my first time in the stadium, I could not complain with how close we were to the field. I don't typically like to sit behind the backstop, but there's something special about seeing scouts nearby scribbling notes and listening to the sound of a ball "pop" in the catcher's mitt. Plus the tickets were free, and I'm not some ungrateful SOB.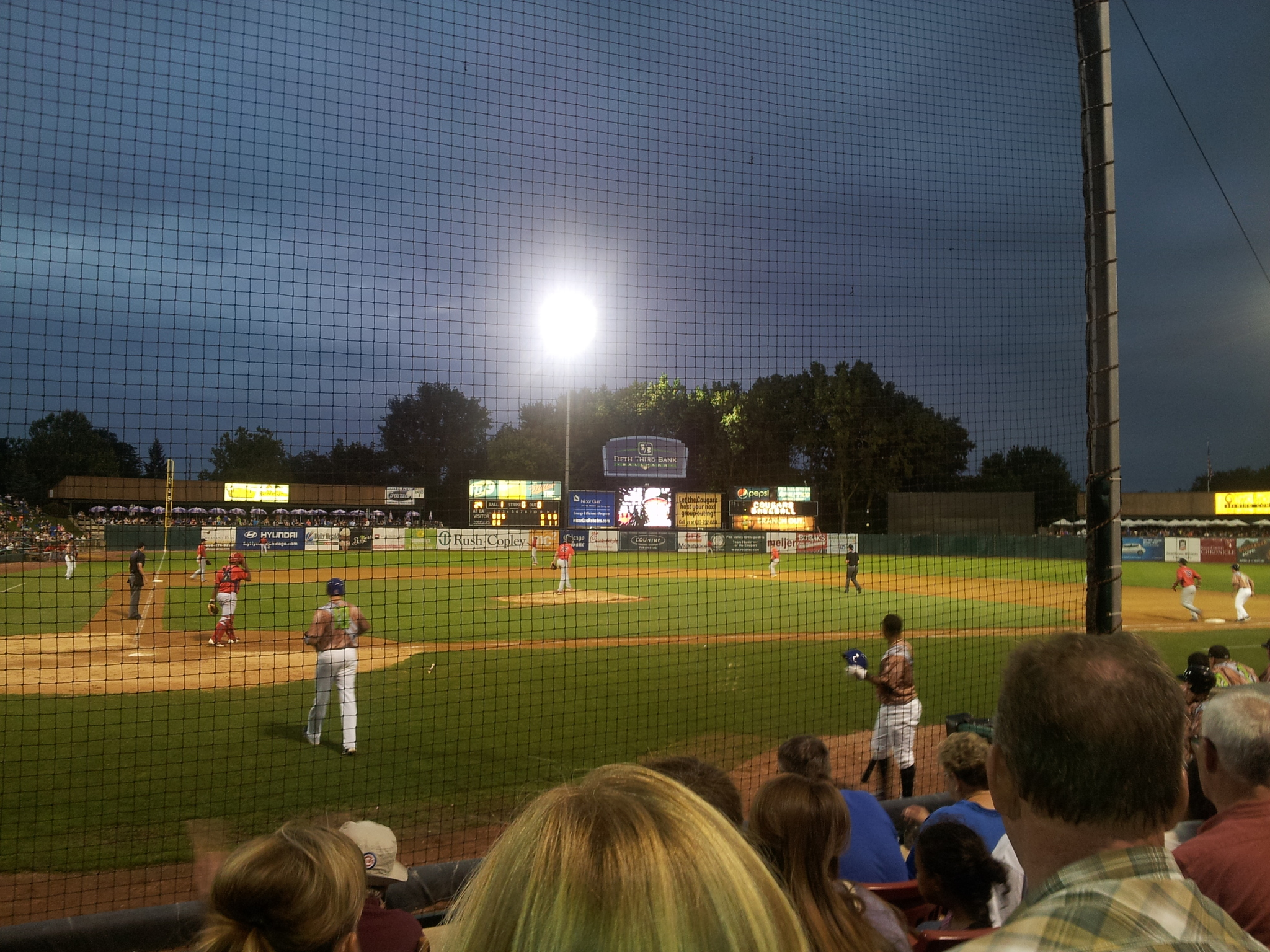 It wasn't until around the end of the first inning when I started to notice something strange taking place: in the row in front of me, a small line began to form in the aisle of people wanting an autograph. Whoever it was about ten feet away was important, but I could only see the back of his head and he was with a woman. It was too hard to identify him from my angle and it wasn't made clear until I heard a whisper of somebody next to me whispering "he's here to see his son" and "that's Wayne Gretzky."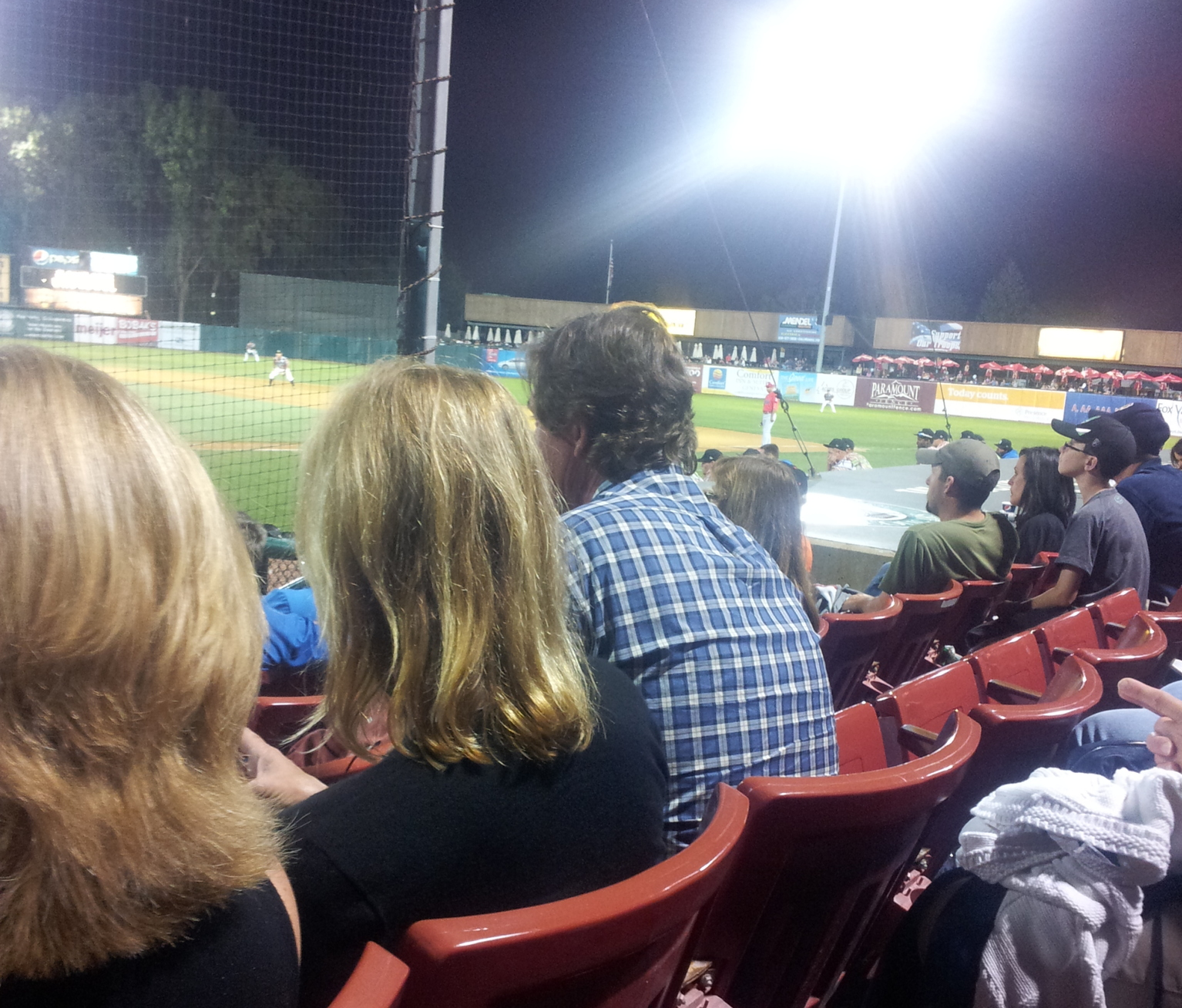 What?!?!
As a longtime hockey fan, I could not believe it. In fact, I didn't believe it for at least five minutes. And then I saw him turn to the side and I recognized his smile as he sat there next to Janet, his wife of many years. Sure enough, when Trevor Gretzky was announced over the PA, I saw a proud mom clap for her son. I was in awe. The fact that The Great One's son was playing ball in Kane County was something I was completely oblivious to prior to our arrival. Turns out he had been in the Cubs system for a couple of years after being drafted by Chicago and had only played in Geneva for a handful of games before tonight. There were only a few games remaining in the minor league season, and it's not like Wayne Gretzky would be in the house for all of them.
It was a total fanboy moment. All I could do was look at him. Here is the greatest hockey player to ever get on the ice, and at that moment he was just a dad watching his son play the sport he loved.
Around the fifth inning, security set up on both sides of the row to prevent children from coming down and interrupting Wayne's experience at the park. Still, I loved seeing a little Cougars fan here and there slip by security unnoticed with a ball in their hand hoping for a signature that clearly wasn't for them. Instead it was likely for a hopeful mom or dad too embarrassed to leave their seat. I realized by now that the empty seats next to him were never occupied throughout the game, as the team had probably hoped to give the Hall of Famer some peace and quiet. I spent the rest of the game laughing about it with my friend, commenting on how excited Janet was when her son knocked a single and yet Dad barely budged. I figured when you've scored 894 NHL goals in your career, one single in the Midwest League may not seem like a whole hell of a lot. At the end of the game, I watched him make his way down the aisle to field security who promptly escorted him to the home dugout. There he met up with his son and a bunch of his smiling teammates.
It was an incredible game experience, and I really couldn't tell you anything about the action on the field since my eyes were fixed on the Gretzky family for most of the night. Of course, I contemplated asking him to take a picture at least a couple of times, but I just couldn't justify bothering him and his wife. All I could think was how special that would be as a parent: being able to watch their little boy pursuing his dream, in peace. That right there was enough to keep me in my seat. And while I can't actually say that I met him, being that close–literally seats away–from The Great One is a brush with celebrity that I'll never forget.
If you'd like to learn more about Trevor Gretzky and his experience trying to rise out of his father's shadow, [READ THIS!] (https://www.sportsnet.ca/magazine/gretzky-the-great-son/)
("A Brush with Greatness" is the first installment of the Game Day Memories series in which the authors share their recollection of a game, filled with moments both on and/or off the field.)